August 10th, 2018 -- by Bacchus
In a recent post about sex toys for men, I wrote: "Gentlemen, we've come a long way when it comes to new ways to spend money on ways to come!" It turns out that I wrote more truly than I knew. I'm old, so I remember when "The Fleshlight" was a single product, and a radical innovation in pocket pussies at that, mostly because it looked a little bit like a flashlight and was a little bit concealable and deniable, at least when you didn't have it wrapped around your dick. That was back when dinosaurs roamed the earth and ErosBlog was new, when guys were a lot more sheepish about sex toys, and more prone to pretend they didn't have any in the house. My, how time flies!
These days, "Fleshlight" is a famous brand and a broad product line — broader than I had realized. A new article at the sex toys and prostate pleasure site Mr. Racy reviews seven different male masturbators from Fleshlight alone: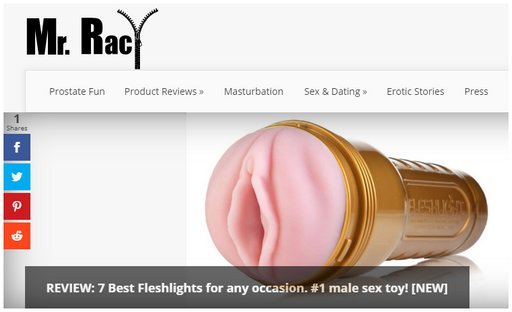 If you are a bottom-line kind of guy, the overall winner and favorite Fleshlight toy recommended at Mr. Racy is the Fleshlight Ice, reviewed separately here. The Ice review is super-detailed, complete with what's-in-the-box photos, detailed photos of the disassembled toy, cleaning instructions, and photos with a ruler to show all the crucial dimension.
Among the other Fleshlight masturbation toys reviewed at Mr. Racy is at least one that has seen a brief mention before here at ErosBlog, plus many I've never before seen nor even imagined. In the category of toys briefly mentioned before, we should include the caseless FleshSkins, which are Fleshlight's most economical toy. The science-fiction design ethos is so strong in them that I once described them as looking "like something that came out of an alien growth tank that makes brightly-colored bioengineered hand grenades."
Is that not freaky enough for you? We can go freakier! In fact, there's an entire line of Fleshlight masturbators with outer orifices shaped specifically to freak you out. We know this because "Freak" is actually the name of the product line. And just how freaky are they? Don't ask questions unless you want to know the answers! With that warning, and with no further ado, meet the Fleshlight "Zombie Mouth":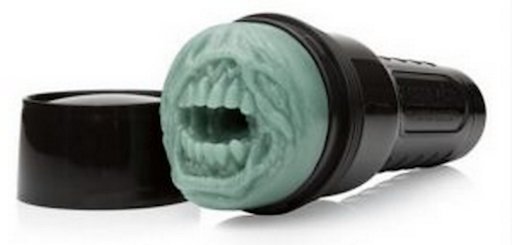 Halloween is coming! Why shouldn't you?
To wrap up, I have to admit that I'm not an expert on male masturbators. Among the ocean of sex toys that I've been sent over the years, there have been a few other masturbators, but never a Fleshlight. What I am something of an expert on is telling the difference between a genuinely helpful review (written to help you make a purchase, sure, but nonetheless packed with information) and useless empty blathering sales copy, of which too much infests the world these days. The Mr. Racy Fleshlight reviews are the best I've seen at delivering product information about the different Fleshlight models, and helping you sort through the complicated Fleshlight lineup.