October 23rd, 2018 -- by Bacchus
I don't mind saying that when I first landed on this web page with "doctor" in the domain name and a sexy nurse for a logo, I felt a sense of dread. Too often when medical iconography gets yoked to the wheel of sexual pleasure, something important breaks with an unpleasant crunching noise, and we get a mendacious brochure for bogus penis pills or do-nothing arousal creams. I was prepared for the worst, I tell you! Thus it was a quite a pleasant surprise to land instead at Dr. Climax and discover the entirely sincere middle-aged sex therapist Angela Watson (who is careful to say she is not an actual doctor) and her husband Don, blogging away in an industrious fashion on sexual health topics and writing honest-looking sex toy reviews: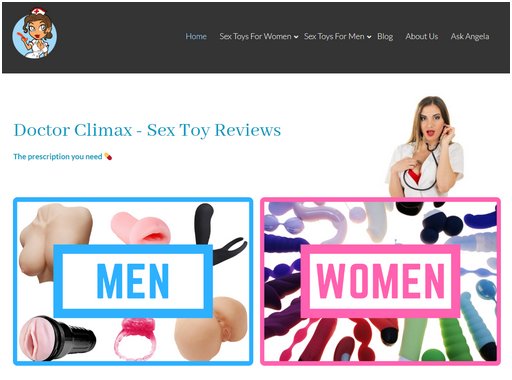 As will be apparent from the screenshot, Doctor Climax is emphatically not a site that has abandoned the offensive-to-some division of sex toys into "for men" and "for women" categories. In part I think this may reflect their own relationship story, which they are not shy about sharing in the posts and reviews on the site. Don Watson is a truck driver, and as a high-libido monogamous heterosexual married couple for more than twenty years, the Watsons enjoy sex toys when their relationship is intermittently long-distance. In this context, I think the "for men" and "for women" categories on their site reflect their experiences of the toys. There's no hint that they deliberately intend to exclude or dismiss people whose gender doesn't fit neatly into the binary categories.
Their real-world experience of long-distance loving made me dive with interest into their in-depth Lovense review, with its promise of a report on their extensive testing of the remote capabilities that are built into so many of the Lovense toys. It sounds from their reviews (they have more-detailed individual toy reviews linked from the in-depth one) as if they actually use the toys on a regular basis. This is rare to see, especially in the realm of "gadgety" toys with remote-control and teledildonics features.
Of course you'll want to read the review yourself if you have an interest in these things. A few facts and impressions were takeaways for me that I did not know or had not heard before:
The Lovense line has a powerful wand-style vibrator called the Domi that has a bluetooth connection for remote control functionality from across the room or around the internet. To me this immediately suggests kinky applications. Keep busy fingers inside bondage mittens, and if she wants to change the programming, she can ask…
The Lovense entry — the Lush — in the "remote controlled vaginal egg vibrator" category is apparently rather more powerful with better remote control range than the usual barely-functional products you may have played with before. Fun!
The Lovense effort at a true paired teledildonics set of toys — the Nora and the Max — appear to be toys that Angela and Don appreciate individually and have enjoyed in remote internet linkage, but their reviews indicate that internet lag makes synching the toys properly pretty difficult unless both parties have a really super internet connection.
There are lots more articles at DoctorClimax.com about a wide variety of sex toys and sexual health topics. Readers, you all know me for a weary cynic. I kept clicking post titles expecting to find bullshit (because that's who I am), and "all" I found was sane, compassionate, informational prose — about an equal mix of sex toy stuff and other sex-related topics. We need more sites like this.