July 23rd, 2023 -- by Bacchus
We might certainly wish for better image quality, but I'll always make room for even the grainiest photo of 11 topless bicycle riders with groovy 1970s hairstyles: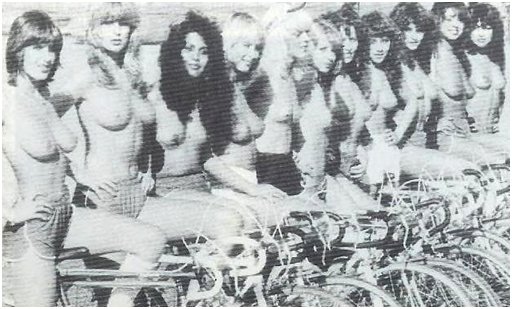 According to the Dutch-language caption in a 1978 issue of Chick magazine, these naked bicyclists were seen in negative in the video for the Queen song Bicycle:
In the TOP 50 etc. you can see a number of ladies cycling with naked breasts in the negative image of the video accompanying QUEEN's song Bicycle. Nice of course, but below you can see those ladies positively, In CHICK of course.
Wikipedia adds context:
The song is notable for its video featuring a bicycle race with nude women at Wimbledon Stadium. The controversial video was edited or even banned in several countries.

…

Filmed by Denis de Vallance, the promotional video featured 65 nude women, all professional models, bicycle racing at Wimbledon Greyhound Stadium, southwest London. The group rented the stadium and several dozen bicycles for one day for filming the scene; however, when the renting company became aware of the way their bikes were used, they requested that the group purchase all the bicycle seats. The original video used special effects to hide the nudity.
Similar Sex Blogging: