April 29th, 2005 -- by Bacchus
I can't stop posting these old vintage sex photos. Every time I look at alt. binaries. pictures. erotica. vintage ("Just for a moment" is what I always tell myself) I find something I have to share, like this: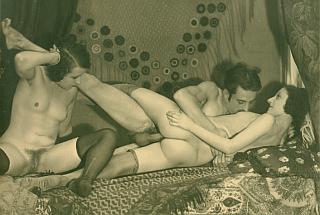 Although this picture makes me wonder. If you were the man in this picture, would you really prefer that the "extra" woman hold your leg up in the air? Surely there are more erotic services she could be performing at that moment.
Similar Sex Blogging: