September 20th, 2018 -- by Bacchus
After what had been a pause of some long while I find myself looking again at virtual reality porn sites, and I have always had a soft spot in my heart for porn featuring the models and directorial styles of Eastern Europe. So I enjoyed today's careful perusal of the VR porn offered by CzechVR.com. They offer more than 230 VR movies as part of a larger network that, with different niches counted, totals more than 500 VR porn movies: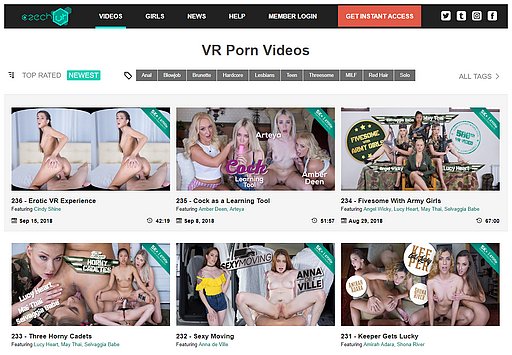 These movies have trailers available for download in .mp4 format, plus a delightfully retro marketing feature that warms my rapidly-aging curmudgeonly heart: three high-quality promotional still photos to promote each movie. Many producers have been entirely phasing out stills, but as loyal ErosBlog readers know, I rely on them entirely; if a movie doesn't have promo stills, I'll almost never watch it, and it won't be very likely to get promoted here, because I'm far too serious about controlling every pixel of what gets published on these pages to ever stream or embed somebody else's promotional video clip. Thus, I purely love stills! Which leaves a warm fuzzy place in my heart for porn movie producers who continue to use them in marketing their movies. Yay for Czech VR.
Finding their precise VR porn movie you want may be a bit of an adventure, though. Although each of their movies has a pretty good text description, there's no search box on the site that I can find. However, all the movies are tagged using tags from an assortment of perhaps 65 different ones. These tags let you narrow your selection; the tags specify for each movie different types of porno action, varying body types and breast sizes, age and ethnicity preferences, fetish activities performed, body hair and body art variations, and so forth. There's also an alphabetical performer index if you are looking for a particular porn star. It's a pretty comprehensive set of options!
For a long time I viewed VR porn as a sort of niche of its own, where we did not really ask questions like "how much content?" or "what quality is it?" because the miracle was the 3D immersion and the fact that there was any content at all. Sites like this are driving home to me the fact that VR porn has grown up, and now for a studio to be successful it's all about having a broad and deep catalog of consistent high quality.
Czech VR displays logo buttons advertising headset support for Oculus, Vive, Windows Mixed Reality, GearVR, Daydream, Oculus Go, Playstation.VR, and the various smartphone-based systems. I imagine that you can find something on their list that will work with whatever VR viewing system you have.