May 21st, 2005 -- by The Nymph
I decided now would be a good time to pop out of the woods for a chat. I've been a busy nymph since Spring arrived but I wanted to check in. I'm still amazingly happy and more in love with my Bacchus than ever. Life is good here.
I admit I normally feel extra frisky this time of year but being in love makes it more intense. On top of that, I've got this irresistible urge to go out and buy pretty things to wear. Bacchus is completely baffled by this. If it were up to him, I'd wear nothing at all. Go figure.
The main reason I'm thinking about this is that I'm plannng something special for Bacchus and I'd like to find something sexy to wear for this occasion. I love wearing pretty things for him but I'm wondering if it's more for me or him. Is it really true what they say about men being more visually stimulated than women?
For my part, I enjoy playing the role of the sexy siren. I love the feel of satin, lace, and soft materials that caress my skin as I move. I like the way his eyes light up and the way he can't keep his hands off me when I appear in something especially naughty. It's delightful.
So would it be selfish if I go out and buy something like this?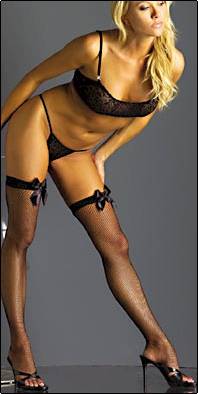 I found this sweet little outfit at Eros Boutique but I think I'll look around there some more while I try to decide. Now under what rock did Bacchus hide that credit card?