November 26th, 2005 -- by Bacchus
Wow. I just got the new black video iPod from Amazon.com. Of course I didn't get it just for viewing porn, but I've got a sex blog thing going on here, so I had to try that out.
Unfortunately, the iTunes store doesn't sell any worthy porn. No worries; like lots of folks, I've got a ton of accumulated little porn clips on my hard drive that I've downloaded over the years. Lots of it is 320×240 (the dreaded "postage stamp" size) and doesn't look like much on a computer screen viewed from twenty-four inches away, but on the stunningly vivid iPod screen held a comfortable distance in front of your face, it ought to look real good. So I'll just bung my video clips into my iTunes library and get busy viewing, right?
Alas, no. There's a slight flaw in that plan — video formats. The iPod accepts only two formats; video on the PC comes in many different flavors, virtually none of which match what the iPod wants. You want a good explanation for that, talk to a video geek; I don't pretend to understand it. There are ways to convert, but they don't sound easy. I Googled the problem and the "best" solution seemed to be to buy expensive conversion software and then expect to wait a long time as each bit of video gets converted properly. Sorry, but I don't want it that bad.
So how am I gonna get porn for my iPod?
Fortunately, inspiration struck. You'll have noticed I'm always posting pictures here that I downloaded from the alt.binaries erotica newsgroups on UseNet; the service I use for that is GUBA, a cheap and friendly sort of search appliance for the UseNet visual content that's otherwise very difficult to find and download. (If you know how to download dirty movies from UseNet without GUBA, you probably already know how to convert all your files into iPod-friendly formats too, while baking a savory peach pie with your other hand.) Maybe GUBA (I thought hopefully) would have some iPod-friendly dirty movies?
Ding ding ding ding ding! Jackpot. It turns out that GUBA is riding the crest of the iPod porn wave; they have recently added a filter that converts almost all of the video on UseNet into iPod-friendly format, so if it's been posted to UseNet in the last couple of weeks, you can download it iPod-ready. That's a LOT of porn, folks; the bigger groups (like alt.binaries.multimedia.erotica) can have 2,500 or more video clips (or even whole movies) at any one time. And there are a metric buttload of different porn groups — one for every imaginable fetish.
When it comes to finding and downloading, nothing could be easier. Just pick your flavor (say, nude celebrities from alt.binaries.multimedia.nude.celebrities) and browse the videos — they make it easy with full-screen "contact sheet" style previews, or you can watch online with a nifty streaming Flash application. Here's a clip of Halle Berry getting naked and nasty (in a good way) in Monster's Ball (members-only link, will expire in a couple of weeks):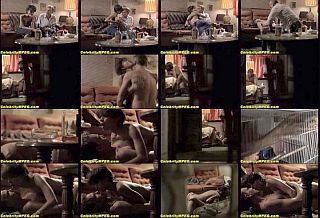 All you have to do is hit the "iPod Download" button. Once the file's on your hard drive, import it into iTunes and it will be added to your iPod the next time you synch up. Easy as pie!
Better still, every newsgroup on GUBA has a nifty "subscribe to Feed in iTunes" button at the top of the page:

When I clicked that, I downloaded a .pcast file that loads into iTunes and sets it up to download new movies from the selected group as fast as they appear (bandwidth permitting, and you can eat a lot of it this way). An endless gusher of porn, shooting from the hose faster than you could ever hope to consume it. (I could dirty up that metaphor if you liked.)
None of which would matter much, except for the fact that (just like everyone says) watching video on the iPod is an unexpectedly pleasurable experience. The screen is bright and vivid, the details are sharp, and when the iPod's in your hand, it naturally gravitates to your most comfortable viewing distance. In many cases, it's actually quite a lot better than watching the same movies on your computer screen. Plus, you can take the iPod somewhere more comfortable (or more private) than your computer desk, if you are so inclined….
I bought my video iPod to have an iPod, thinking the video would be a mostly-worthless gimmick. Boy, was I wrong. The Nymph (who loves music videos) took one look over my shoulder and began pleading with me to let her play with it — the video is that pretty. At this rate, I may have to buy her a second one!