July 31st, 2006 -- by Bacchus
Dominant women smoking cigarettes (and doing mean, mean things with them) are a frequent theme in "femdom" porn, especially from places like Japan where smoking seems to remain a bit more "cool" than it has become in the United States. Here's a fragment from a manga comic panel featuring a vulnerably posed naked man and a domina poised to extinguish her smoke: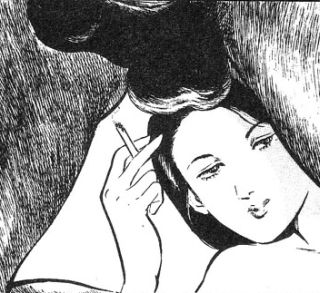 You can see the whole panel here, but don't click unless you're prepared to wince and shudder.
Found in the alt. binaries. pictures. erotica. cartoons newsgroup on Usenet.
Similar Sex Blogging: