December 4th, 2007 -- by Bacchus
In 1898, no less?
You betcha: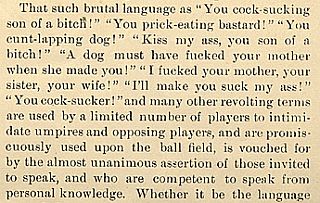 It's real: "the most offensive official Major League baseball document that we have ever seen."
Let's enumerate for the folks reading this via RSS:
You cock-sucking son of a bitch!
You prick-eating bastard!
You cunt-lapping dog!
Kiss my ass, you son of a bitch!
A dog must have fucked your mother when she made you!
I fucked your mother, your sister, your wife!
I'll make you suck my ass!
You cock-sucker!
Link via Boing Boing.
Similar Sex Blogging: