February 14th, 2008 -- by Bacchus
The Nymph and I celebrated early this year with a two-day excursion, spending a night in the big city in a nice hotel, getting a couple of good meals out in restaurants we enjoy, and going to some good movies.
For your Valentine's card, how about this? It's been my favorite twee Valentine's Day image for at least a decade. I thought I had posted it some years ago, but I cannot find it anywhere in the archives, so, perhaps not.
I love it because it combines the usual over-sweet imagery of Victorian romantic love with just enough hint of pervery to cut through the sugar, like the squirt of lemon in your tea with honey: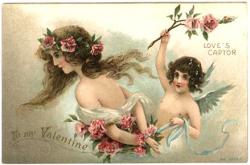 (If this looks strangely familiar to you, take a second look at the ErosBlog logo.)
Similar Sex Blogging: