April 16th, 2008 -- by Bacchus
So of course, my skepticism of yesterday's Marilyn Monroe blowjob movie report was shared by others, some of whom now claim to be "debunking" the "hoax". To me, the "debunking" sounds like skeptical experts explaining why skepticism is in order, but you can't really establish "hoax" unless you have evidence or a confession, which the skeptical experts do not (yet) appear to have. It wouldn't be fair for us to expect debunkers to do the impossible ("Prove that the movie doesn't exist!) but it's still cheating for them to engage in their informed arm-waving and then claim that's the same as if they did prove the movie doesn't exist. I'll chalk this up to Defamer's over-hyperbolic headline writing, and wait to see what else develops.
Meanwhile, there's much internet talk of a tame old porno loop called The Apple, Knockers, and the Coke Bottle, starring Arline (or Arlene?) Hunter, who (some people say) looks a bit like Marilyn. If anybody out there is treasuring that loop in a format suitable for emailing, ErosBlog stands ready to share it with a broader public. My Google-Fu is weak today, and has so far yielded only this: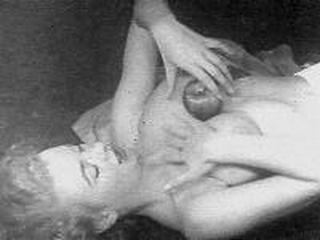 Source is a Marilyn Monroe fan site with this to say:
The actress in this film is named Arlene Hunter who was a 1954 playmate for Playboy magazine. In it Miss Hunter removes her clothes, rolls an apple around her breasts, and then provocatively sips from a Coke Bottle.

I can't believe that people are making money off of this stag film by ripping off unsuspecting fans. I personally don't even see how someone could mistake the two women, Arlene Hunter has a faint resemblence to Norma Jeane but is certainly no look alike.
Interestingly, there may be another stag film out there that's commonly claimed to feature Marilyn. This site is adamant that it's not the Apple/Coke Bottle movie, and has the best compilation I found of stills, links to magazine coverage, and the like. I myself don't find the stills to be all that compelling: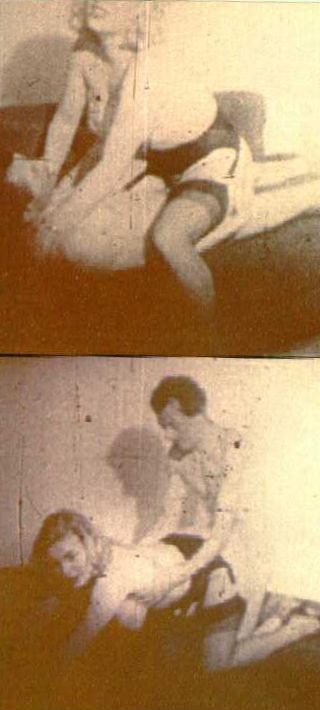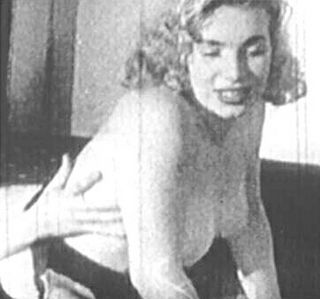 Open season:
I hereby declare that the usual Erosblog rules against the "Is it real? Is it fake? Is it Photoshop?" game in the comments DO NOT APPLY to this post, or to the previous one. Hell, for this story, that's got to be at least half the fun. Go wild, but remember this — unless you are the photographer of one of the images in question and want to share your first hand knowledge, your opinion is not fact and should not be presented as such, or with unwarranted certitude.