May 15th, 2008 -- by Bacchus
One thing I like about writing a sex blog, in this era of increasing porn saturation, is that as the competition heats up, and production values increase, I'm seeing more and more porn that looks like art, especially from the high-quality porn producers like Kink.com or (for your non-kinky examples) Femjoy or Domai.
It used to be that a shot like this one, of Candice Nicole enjoying an enforced contemplative post-ejaculatory moment during a Sex And Submission shoot, would have come only from the studio of one of the "arty" guys like Craig Morey or Richard Kern: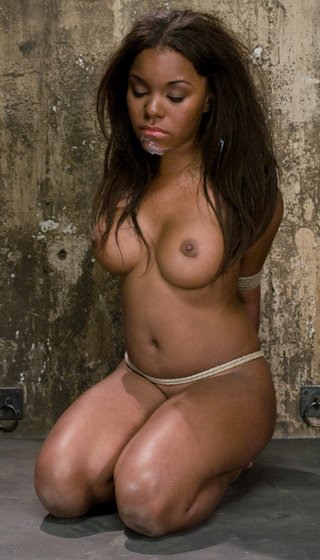 My problem with erotic art photography is that, historically, it has tended to strike me as self-conscious and defensive, and in its defensiveness, it often grew boring. In its worst form, we get that endless flood of semi-abstract nudes that congest web galleries and college sophomore life photography classes. You know what I'm talking about: the curve of a buttock or breast, usually upside down or at an odd angle, often pressed against some random implausible texture like old roofing tin, presented in black and white with funky lighting so as to make the whole project safely non-sexual.)
Luckily, as the standards and technology of porn photography get better, I'm seeing a best-of-both-worlds convergence, with your favorite subscription porn shack pumping out art-quality photos of a volume and diversity and unapologetic lustful sexuality that even the best "erotic art" photographers never seemed to manage. And I love it!
Similar Sex Blogging: