October 11th, 2008 -- by Bacchus
I don't do very many pure "go buy some shit" blog posts, because it's very easy for sex blogs to go overboard that way. But sometimes I see something that's just too deliciously bizarre not to point out.
Anyway, last night I went surfing to The Stockroom to see what was new in sex toys, and what I discovered instead was new sexy stuff in their costumes and masks, and BDSM hoods areas.
What caught my eyes in particular were their expensive, spectacular, and surreal leather bunny hoods, in black and white: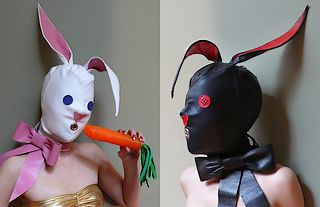 (Sadly the carrot dildo is not included.)
Continuing in the animal vein, check out this scary-but-very-handsome zippered dog-face hood: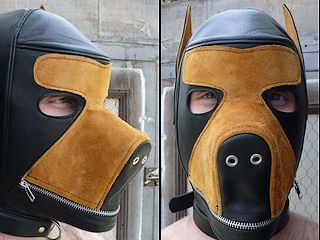 If you want to be more conventionally sexy/slutty, of course they also have the usual run of sexy costumes; there are the sexy nurses and schoolgirls and French maids we have learned to expect and enjoy this time of year, sometimes with a pleathery twist to let you show off your "kinky vegan" side:

We talked last year about some of the implications of life in "Strip Nation", the land where Halloween has happily morphed into "Dress Like A Slut" Day, and I'm not blind to the concerns of the folks who aren't entirely happy with it. Not blind, no, but I remain fundamentally unconcerned; as I wrote then, I see this phenomenon as a healthy Halloween manifestation of the ghosts of Saturnalia and Carnival, occasions of celebratory revelry that were (in the Puritan Protestancies) mostly suppressed centuries ago. It's a liberating holiday, to be celebrated as vigorously as possible by all friends of pleasure.