June 23rd, 2009 -- by Bacchus
EverythingButt.com — announced in this space on Saturday — has now gone live, along with another new Kink.com feature I quite like, which is Flash movie galleries that stream the free sample movie clips "on the page" without the need to download them first. This last feature contributed to my discovery of something that's rare in porn: the genuine laugh-out-loud moment.
I don't want to spoil it for you, so I'll just direct you to it. If you view the first clip in this flash gallery, you'll see Mark Davis plumbing the surprisingly-capacious and hitherto-unsuspected depths of Kylie Ireland's anal vicinity. He's using the "toy" shown in this photo: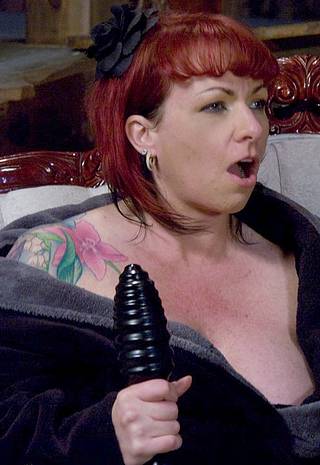 This gallery, first clip, she's bent way over, he's plumbing away, then suddenly he bends over a little bit himself and says… well, you just have to hear it for yourself. I literally laughed out loud, and then a beat later, so did Kylie — whom you wouldn't have expected to be in a laughing frame of mind. It's good dirty fun.