February 13th, 2010 -- by Bacchus
Ladies, hide your daughters! Gentlemen, light your cigars and prepare your instruments! The rest of you lot, listen up!
You all know Faustus, the gentleman who, in seventy-seven ErosBlog posts since February of last year, has dazzled and delighted you (or, possibly in some cases, confused you) with his rich mix of erudition, erotica, and eclairs. (Well, actually we did not get any eclairs. I made that bit up.) From the hedonics of engineered catgirl sex slaves to the fetish aesthetics of The Creature From The Black Lagoon, from the fabled fleshpots of Asia to the thinly-disguised lusts captured in marble and pigment in the echoing museums and churches of Europe, from tentacle sex to sexy robots — I could go on and on, but you get the idea. Incredible breadth and scope, yadda yadda.
It was inevitable — and a consummation devoutly to be wished — that he should eventually start a website of his own. Fear not! He'll still blog here — regularly I hope — but now he'll blog as well (and do so much else, besides) at his new site. Can I get a drumroll, please? The site:
The cliche would be "the title says it all" but of course, when it comes to Dr. Faustus, that would be impossible. His initial post says some of it, though:
Do cheesy science fiction movies do something for you? Would you go (or have you ever gone) to see a midnight performance of Invasion of the Bee Girls? Have you ever shared the monster's point of view in Creature from the Black Lagoon? Did you find it at least mildly titillating Virginia Bruce was (theoretically) running around without any clothes on in the 1940 film The Invisible Woman? Have you ever thought perhaps that H.P. Lovecraft might even cooler if he weren't so damn sex-negative? Do you infer a line of artistic influence from Katsushika Hokusai to Toshio Maeda? Do you think it would be sexier to be Victor Frankenstein than Elvis?

If you answered yes to any of those questions, then perhaps this site is for you.
Erotic Mad Science is still new, but it's already got plenty to keep you busy. There's a manifesto (you knew there had to be). There are posts about absinthe, British radio comedy, and the eroticism of water (this last illustrated in part with a stunningly erotic 20th-century re-imagination of The Birth Of Venus):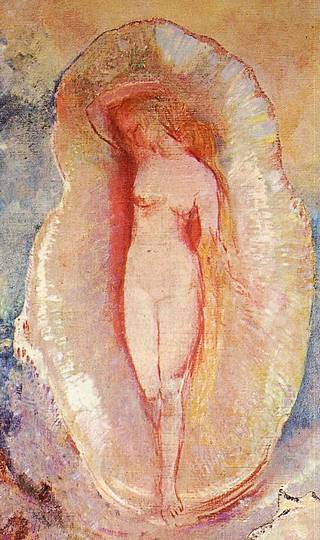 But here's the best part: all of these are related — in ways Faustus alone can explain — to what is sure to be the crown jewelry of Erotic Mad Science. I refer to a body of work commencing with The Apsinthion Protocol, which according to Dr. Faustus "is the first of seven long stories in my Gnosis College mad science series." Written as screenplays, these Gnosis College stories (I am privileged to have read some, but not yet all, of them, though only the first appears — yet — on Erotic Mad Science) are…
Fuck it. I'm not even going to try to describe them. Faustus has a whole website for that project, let him do the heavy lifting. It will probably take him awhile, so there's much to look forward to.
Meanwhile, though, I quote from A Brief Introduction to Gnosis College, just to whet your pervy appetites:
The Gnosis campus is bordered by another institution of higher education, St. Mary Magdalene College, a Catholic women's college jokingly referred to as the Virgin Vault by some Gnosis people. SMMC is run by an order of nuns who keep alive the otherwise moribund tradition of colleges functioning in loco parentis toward their students. It is thus a much-favored school for families with traditional values and problematical daughters. The gates are locked tightly every night at nine. SMMC doesn't appear in The Apsinthion Protocol, but will in a forthcoming script, Progress in Research.

On the outskirts of Pleasant Prairie we find another institution, a juvenile detention facility called the State Home for Wayward Girls, which is pretty much what it sounds like. (The state has given it another, nicer, name which no one can readily recall.) This place too will appear in a future script, most prominently in Invisible Girl, Heroine.
Add it to your bookmarks, people; this may take awhile.
Similar Sex Blogging: