July 14th, 2011 -- by Bacchus
Hey everybody, about six weeks ago when I posted Enjoying A Chained Man, I wound up exchanging emails with Molly Ren from Stuffies, who volunteered to assemble a guest post roundup of links and imagery featuring submissive men. Since that's an area where ErosBlog is traditionally weak, I was delighted to encourage her. Here's the result!
====================
Guest Post by Molly Ren
====================
Via Man Crush of the Day: This guy looks like he conveniently had too many at a frat party. ( link )
This gent isn't being particularly submissive, but I'm jealous of that blow-up dolphin.
Androphilia posts a mix of non-sexual fine art and naked people. This photo is of a man deepthroating a foot.
Fuck Yeah Slave Boy provides this illustration of a delicate boy suspended in bondage.
Here's a simple photo of someone with their hands bound behind their back.
Flickr user Cigno Nero has taken some beautiful photos of a man tagged "Ale", some of which (like this one) barely hint at sex.
I have no idea where this .gif of a bound man hopping out of a closet is from.
And then there's dilemma rope bondage.
My Daguerreotype Boyfriend posts non-pornographic images of hot men from the Victorian era. This dude appears to be handcuffed. This boxer is lovely to behold.
There's also the perennial favorite, Male Submission Art, which is curated by Maymay. His image descriptions have gotten rather heavy, lately, but he still has good taste in images.
Also, this picture of an androgenous rider passionately kissing a centaur is one of the most wonderful things I've ever seen. I thought of Erosblog when I first saw it. Tumblr banded together in the notes to discover the name of the original artist, George Leonnec.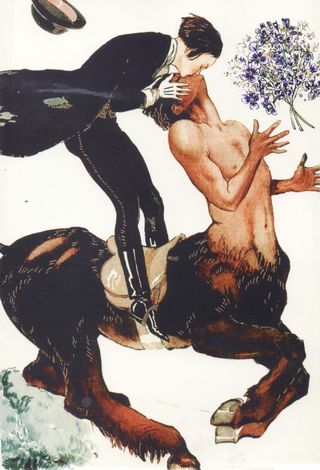 — MR
====================
Thanks, Molly!