October 16th, 2012 -- by Bacchus
This is from an ad for Lucky Tiger hair tonic in an old Esquire magazine: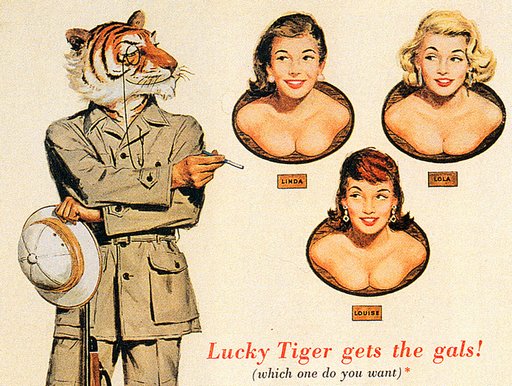 Now, the "our product will help you catch girls" advertising line is as ancient as advertising, and treating women as trophies and/or loot in the imagery is a tradition just as venerable. A man sees; a man is not surprised. But still. Notice how the notional capes were generously cut so the trophies could be — dammit, the word is "mounted" — to display cleavage? Notice how the trophy nameplates are all girls from the "L" gallery of his extensive collection? Notice how the reader is invited to pick one out for himself? That asterisk is not helping, either; it leads to prose at the bottom of the ad that offers "a picture of Linda, Lola, and Louise suitable for framing" in exchange for a box top.
A different era. Me? Not so nostalgic for it.
Similar Sex Blogging: