October 3rd, 2013 -- by Bacchus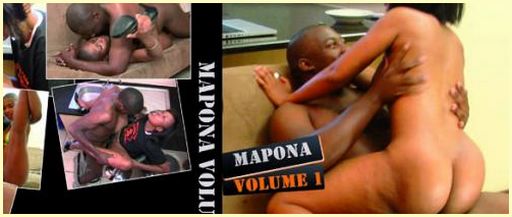 This article in Sabotage Times about the rise of a porn-producing industry in Africa is light on details, but it's interesting nonetheless:
Of all the pornography Africans consume on a daily basis only a miniscule percentage of it comes from within Africa, the majority of that being hazy camera phone recordings of coitus recorded with or without the 'stars' consent. In terms of a professional porn industry in Africa it is entirely acceptable that given some of the archaic religious oppression, particularly enforced by post-colonial dictators that it would have simply been too dangerous for a budding Hugh Hefner to build an empire.

However that is changing. A burgeoning industry, albeit a small one, is emerging in which African pornstars are getting it on in front of African cameramen and being told to put what where by African producers.

In 2010 the first truly 'African' pornography sensation was released in Johannesburg – simply titled 'Mapona vol: 1'. Its co-producer Tau Morena said the hour-long 'project' was the culmination of two years of organising, crowd sourcing and auditioning – all stemming from a frustration in online communities at the lack of a 'local' porn presence.

The venture was a complete success, to the point where it caught the producers by surprise. Within two weeks one could not find a legitimate copy of 'Mapona' in any of Jo'burg's licensed XXX stores. That is not to say it couldn't be found. And there in lies the problem for many potential investors, a quick trip to the stalls of your local township and you could purchase a bootlegged copy for a fraction of the legitimate price.

However, not even the loss from piracy can do much to assuage the feeling that the domestic porn industry is waiting to explode. The South African production houses may have less than 200 titles between them so far (generally less than the average U.S based porn actress has by her mid-20s) but the demand is growing from the consumers and also the willing participants.