June 9th, 2015 -- by Bacchus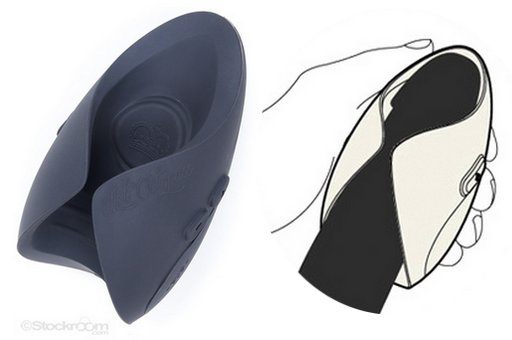 One of the newest sex toys out there is the Pulse II Duo, shown above. This is the first time I've seen one of the high-end vibrating sex toys designed for male pleasure as well as couples play, and although I don't have one to test, it looks rather promising! Features it offers that I've never seen before in a vibrating stimulator for penises include:
1) Oscillation tech applied directly to the frenulum, instead of the standard vibrator buzzy-motor;
2) A vibrating area external to the toy intended for partner pleasure;
3) A hands-free wireless remote control controlling the external partner-pleasure vibration;
4) Wings that wrap around the penis allowing for hands-free use;
5) Said to work on a flaccid penis.
To me, the hands-free use and lack of need for a continuous sustained erection implies some scope for BDSM fun, orgasm control, and tease-deny play. If the Pulse II Duo stays on his penis even while his hands are bound out of the way and can bring him erect and/or to orgasm from a flaccid state as advertised, it sounds to me like a low-effort way for a lazy dominant to have a lot of fun playing with his helpless dick…
According to the sales copy:
PULSE is a multi-award winning stimulator for men that features oscillating sensations never before seen in a men's toy, setting it apart from all other toys that came before it.

The PULSE II DUO can either be used for male solo play or as a hands-free toy for couples. Though both versions feature 5 patterns, each with 9 speeds of intensity, the remote control included with the DUO allows for complete control over 3 speed settings specifically designed to stimulate your partner. One of the great things about this revolutionary sex toy is that it can either be used flaccid or erect, allowing the user to enjoy the sensation of being made hard and ejaculating, while offering some great possibilities for men who suffer from erectile dysfunction (ED).

Its unique design specifically combats sexual dysfunction in people with neurological or physical disabilities, by utilizing a piston-type mechanism that causes the Pulse Plate on the interior of the unit to move up and down against the frenulum (tissue under the glans). This technique, known as "Penile Vibratory Stimulation", is the first time this patented technology has ever been used in a sex toy and is another reason why we're so excited to be carrying it.
Similar Sex Blogging: