August 5th, 2015 -- by Bacchus
Here is a new thing in the world that may make you happy. We don't often see sex toys designed as ornaments, and it's even less often we see ones that seem to invite public exhibition. But the Six Gates Of Pride are a flamboyantly colorful exception: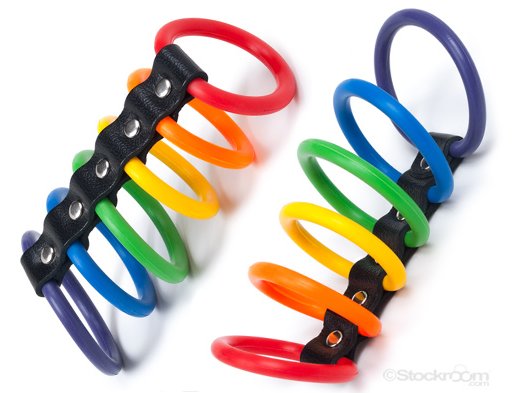 This is brand new at the Stockroom, which says:
Pride isn't just for flags. With this festive-looking chastity device, you can put the rainbow on your favorite penis and make your play a little bit more flamboyant. Designed and assembled in Stockroom's own workshop, the six silicone rings connected by a leather strap comfortably restrict the shaft until you're ready to release it. Even the darkest dungeon will be brightened by the colors. Perfect for the sub who's proud of his service to you and wants everyone to know it.
Similar Sex Blogging: