November 19th, 2015 -- by Bacchus
Back in May I wrote about the evolving sex-cams business, in which competition is leading to more and more "free show" perks as models perform on publicly-accessible feeds for free or for tips, as a sort of loss leader to attract paying customers for private shows.
Last month the live-cam model and performer Finley Blake apparently got fed up with all the non-paying non-tipping lurkers watching her feed waiting for her to do something fun for free. So she staged a one-woman cams-performer work stoppage and went on strike: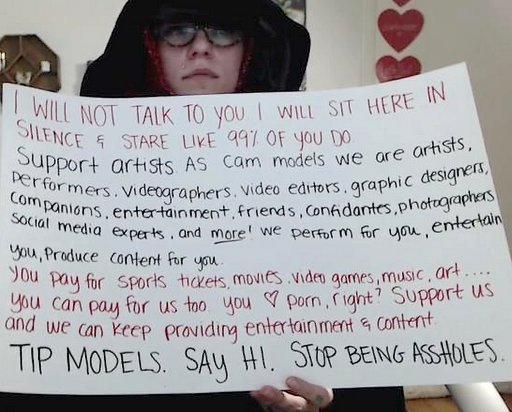 The sign reads:
I will not talk to you. I will sit here in silence and stare like 99% of you do.

Support artists. As cam models we are artists, performers, videographers, video editors, graphic designers, companions, entertainment, friends, confidantes, photographers, social media experts, and more! We perform for you, entertain you, produce content for you.

You pay for sports tickets, movies, videogames, music, art… You can pay for us too. You ♥ porn, right? Support us and we can keep providing entertainment and content.

Tip models. Say Hi. Stop being assholes.
Similar Sex Blogging: