February 26th, 2016 -- by Bacchus
I've blogged before about Porn Discounts, where you can find reviews of porn sites along with information on the best discounts available at each reviewed site. Their section covering BDSM pay sites still isn't as extensive as it might be, but the sites are well-chosen, featuring many of the favorites we've sampled here at ErosBlog in the past: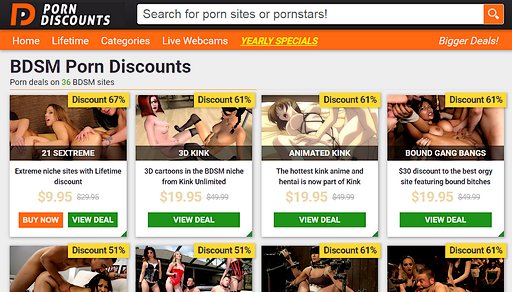 The reviews at PornDiscounts are, as I mentioned before, noteworthy for the detailed data they have on most of the sites featured. If you push the "view deal" button for one of the top BDSM sites they profile, you will typically learn exactly how how many shoots, how many photos, and how many videos at various resolutions that site has available. Plus, of course, you'll be told which billing option offers the biggest discount over the regular monthly subscription price.
I'm told that the focus on useful and factual information about featured sites is an artifact of Porn Discounts' historical roots as a user forum for porn aficionados. All the data about what subscribers can expect to find is a welcome change from the empty sales copy that populates too many superficially-similar sites. Enjoy!