August 20th, 2016 -- by Bacchus
The vintage (pre-1930) French erotic movie Massages features the earliest film I have seen of an electric vibrator being used for male arousal and erection-stimulation. It's interesting because it features a storyline of a man shown to have arousal difficulties. Of course he gets those difficulties quite thoroughly and happily resolved, with the help of two pretty "nurses", their newfangled electric vibrator, and their professional-level skills with fingers and tongues.
Our story starts when, as one does, our man is leafing through the back pages of his newspaper, looking at and laughing over the ads for bogus "impuissance" treatments: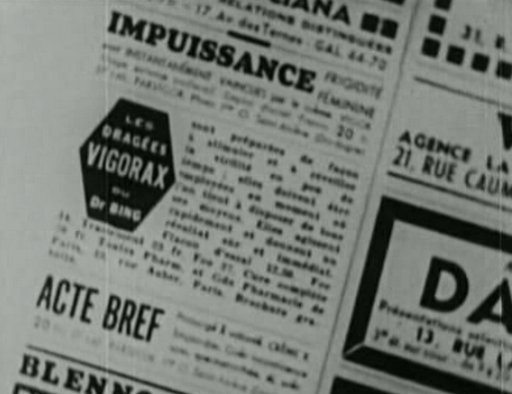 Wait, did I say "bogus"? Silly me. This was in Paris, before the Nazis came. If your erection needed some assistance, there was genuine help to be found in the back of the newspaper! And because this silent movie has its intertitle cards in both French and English, we can read this next ad right along with our interested Frenchman: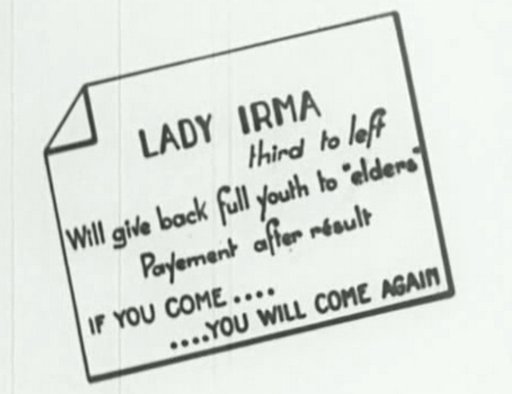 Hey, it seems worth a try, or at least a laugh, right? There follow a few frames in which an offscreen presence speaking via an intertitle card — perhaps his wife? — encourages him to go and "try once more". So off he goes to the massage parlor "Castle Anthrax" for a professional visit with Dr. Winston and Dr. Piglet. No, wait, that's rather a different movie. Right, he goes to Lady Irma's place to find his youth again, in the care of two oh-so-respectable nurses: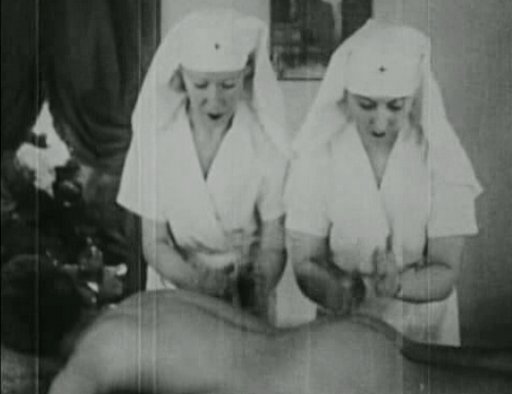 These nurses are very high-tech for their times. They have an electric massager!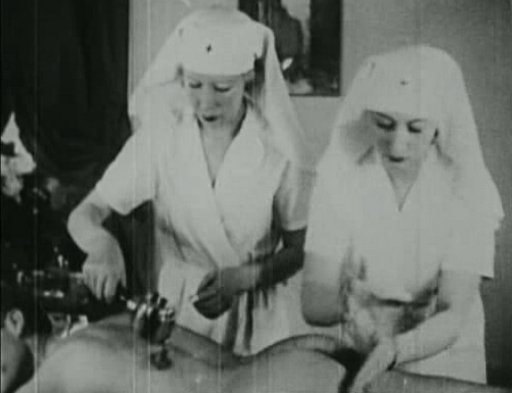 The vibrator feels very good on his bare butt. He can't help arching his back and thrusting his buns up into the air: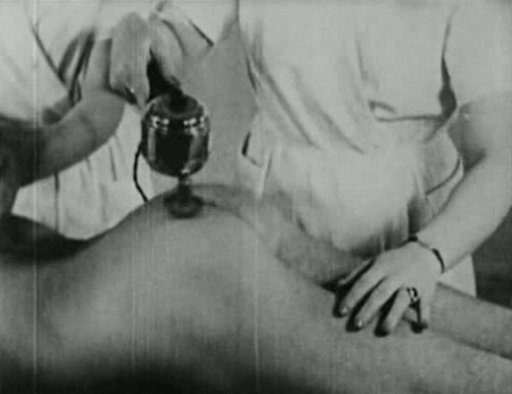 "But sir! That's not why you're here. Now roll over, we have business with your business."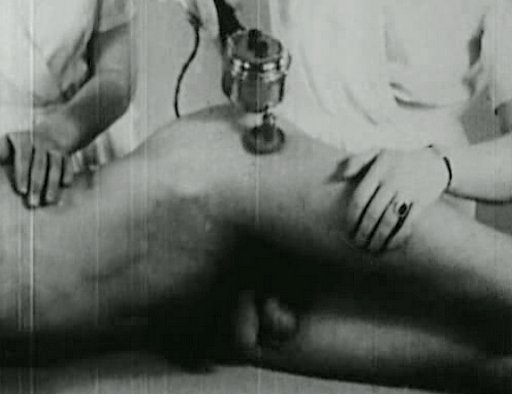 Have you played with the early wall-current massager/vibrators? I have. No dick that can rise will stay limp for long under those vibrations. And because this is porn — if for no other reason — this dick can rise. It does: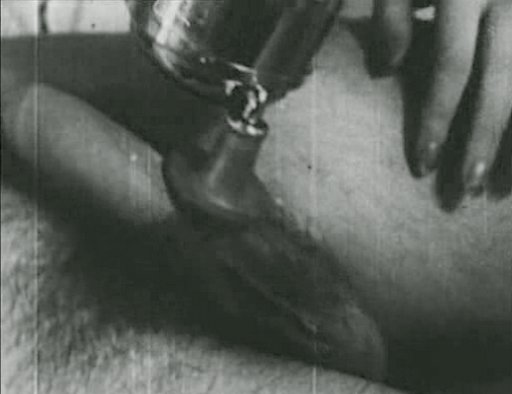 Once the trick is begun, it's nothing that four professional hands can't easily encourage: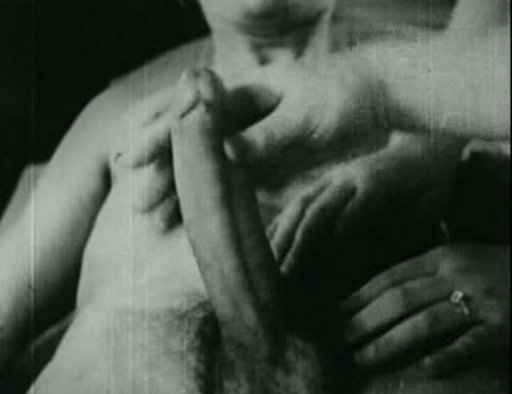 I am going to go out on the limb and say that our fellow is a happy customer!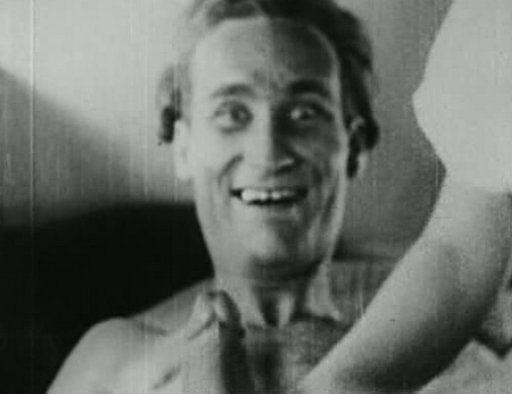 It's at this point that the movie begins to seem quite thoroughly modern, as our nurses collaborate to give the man an efficient double blowjob. I found myself quite charmed by their evident delight in sharing his dick with each other and with the camera: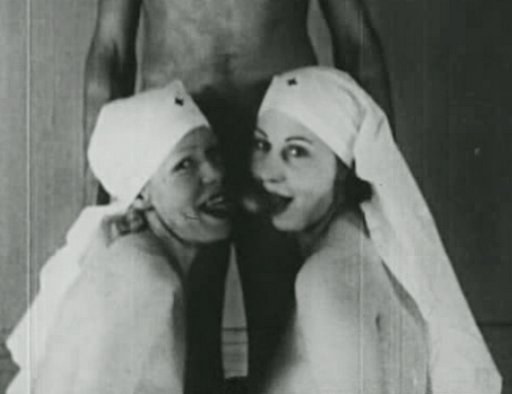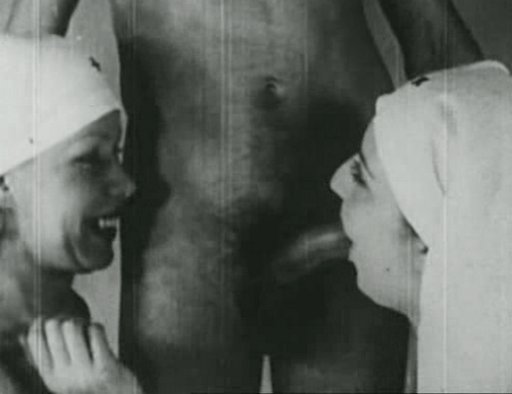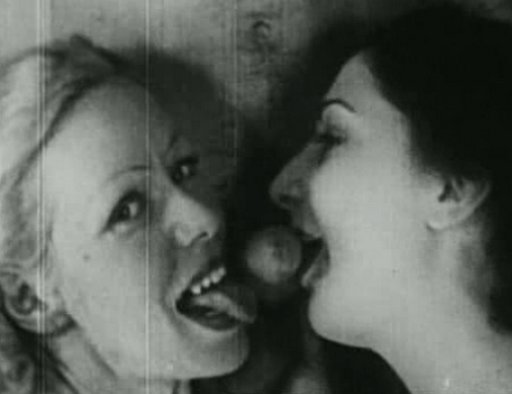 Lady Irma predicted it: "If you come, you will come again." Hell yeah, this man's coming back.