September 18th, 2016 -- by Bacchus
As blogs matured and print magazines withered from prominence, there emerged on the web a sort of hybrid publication that blends the flexibility of blogging with magazine-style articles and a more visual presentation. In the adult space, there are many of these web magazines, including a few that you can find in the ErosBlog sidebar links. But my surfing habits don't take me to overseas websites all that often, so the existence of Adult Press in Australia wasn't known to me until I heard from them last week. Adult Press bills itself as Australia's sexiest source of news and entertainment, and while I'm too far on the wrong side of the globe to discern how true that is, the site presents itself quite promisingly: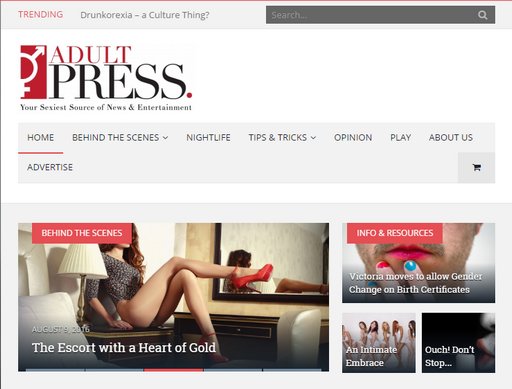 Foreign travel, they say, broadens the mind, and that's just as true when you travel virtually as when you travel in person. I believe it was the second article I clicked that gave me that mind-broadening "you're not in Kansas anymore, Dorothy" feeling. Because sex work is a lot closer to being legal in Australia, Adult Press can bring us the story of senior citizens in residential care facilities demanding — and getting! — access to in-call sex workers:
An anonymous Sydney sex worker first began visiting clients in care homes some 30 years ago and says in the early days you almost needed a full disguise to get in and get out without major incident. By contrast, the modern-day take is to almost roll out the red carpet; the new mentality is for inclusive care with a human touch. One of her clients is a 91-year old man who still manages to fidget in the right places, and she says "there is a communal understanding that what we are doing is in this person's very best interests to express himself as only a man can. Sure, he may be an old man but until the ticker stops ticking he will insist that he is still a man, and why shouldn't he?"

"His primary carer welcomes me when I come in, waits outside, comes back in when I help lift him onto the bed, helps me when I finish with him, and hands me the white envelope with payment. It's a pretty profound thing."
To me, this only proves that I've long suspected: when the Puritans and the transportees got divvied up between the various British colonies, Australia got the better part of the deal. I know Australia is far from perfect on the subject of sexual liberties and it's certainly no paradise for pornographers, but they do get some things a lot closer to right that we Americans do, and their relatively relaxed attitude toward sex work is, in my opinion, one of those things.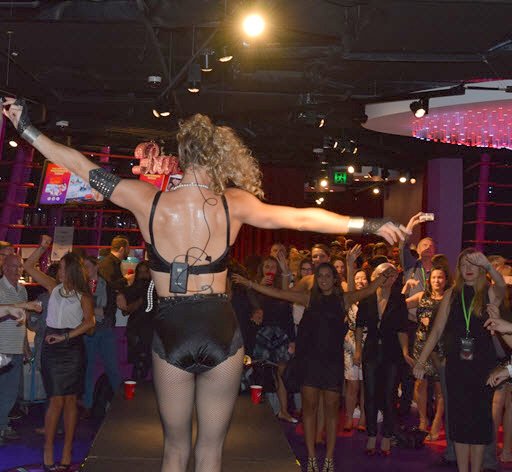 Other Adult Press stories range the gamut from a piece on the upcoming Oz Kink Fest in Melbourne, through a review of a popup burlesque event at Madam Tussauds wax museum in Sydney, to a nice profile of that infamous Japanese penis festival that's been a perennial topic for sex bloggers and journalists for quite a few years now. There are essays on sexy-schoolgirl roleplay, interviews with locally-famous madams, and even a review of a television show called Luke Warm Sex from ABC. (That's the Australian Broadcasting Corporation, not the US network with the same initials that your grandparents still watch.) All in all, Adult Press offers an interesting window on sex and kink culture in Australia.

Similar Sex Blogging: