January 26th, 2017 -- by Bacchus

I hardly think I'm the only one whose first experience of serious flirtation involved the exchange of those ubiquitous Valentine's Day candy hearts with the messages printed on them. Ah, elementary school memories!
Well, we're all adults now. We have private bedrooms, we have credit cards, and we buy sex toys. Which means that we're free to take candy heart flirtation to a whole new level: naughty candy-heart butt plugs.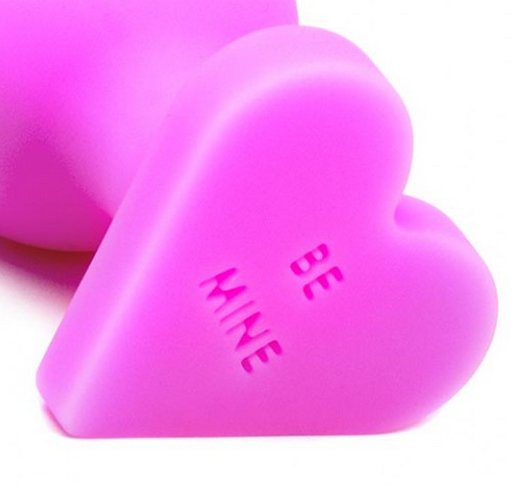 From the The Stockroom. Here's a bit more about the candy heart buttplugs:
Naughty Candy Heart plugs let you get the perfect message across during anal play: Be Mine! Or for that matter: Spank Me or Do Me Now!

With a soft satin finish and a perfectly-angled tip, these butt plugs slide in easily with water-based lube. Washable, flexible, and playful, the Naughty Candy Heart butt plugs aren't just for Valentine's Day; they're for every opportunity that arises.

The plugs are made of the highest quality silicone and are hypoallergenic, nonporous, and boilable. The end of one of these plugs tapers off into a cute, heart-shaped base which allows for easy and comfortable removal and play. The smooth satin finish has a buttery soft touch that becomes slick with lube.

The words are molded into the plugs, so they won't wear off with time. Super durable hygienic silicone plugs insert up to 3″ and are 1.5″ at the widest, for just the right amount of stimulation.
Similar Sex Blogging: