February 6th, 2017 -- by Bacchus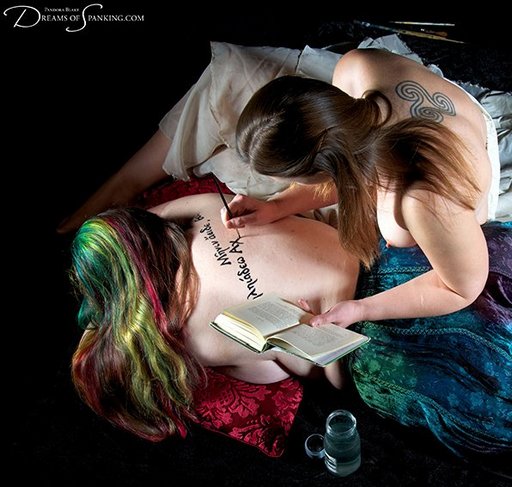 Let's be honest: you would enjoy having the kind of friends who might spend a quiet winter evening doing stuff like this. Somehow you just know that hot tea and purring cats are not far away: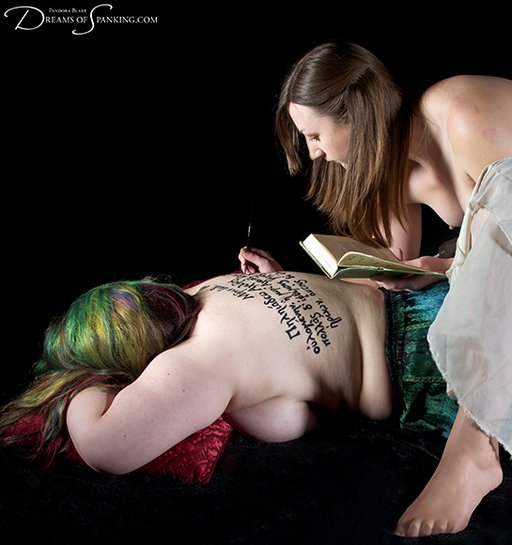 What's going on? Well, it's a scene from Dreams Of Spanking, where all is explained:
Two topless women are engaged in a sensual game: one plays the canvas and the other the artist. Adele Haze lies on cushions, exposing her breasts and bare back – and it's the latter that her lover will write on. Pandora Blake uses black ink and a brush to adorn Adele with intricate Greek lettering.

As Pandora's calligraphy winds around Adele's gorgeous curves, Adele must stay completely still, hardly breathing to avoid nudging Pandora as she writes her lines. In a Victorian school, ink smudges would mean a punishment for the writer. Here, the responsibility to avoid error falls on the writing surface. Pandora weaves her spell in words, and the magic of the moment mustn't be broken. For each smudge, Adele will get a stroke of the cane.

When the text is complete — the first few lines of Homer's 'Iliad' — Pandora carefully examines her work, stripping Adele naked so she can admire the slick black script that covers her body. Afterwards Adele bends naked over the punishment bench in the Scriptorium, exposing every inch of her bare skin. Pandora's found some smudges…
Pandora's blogging about the photoshoot tells us a bit more about the shoot. For one thing, we learn that Girl On the Net does Pandora's copywriting (see above) which says a lot about why it's so consistently excellent. (Great copywriting is an anomaly so rare in the porn business as to approach in this case the true meaning of "unique" in its most absolute hard-mathematical full-Highlander "there can be only one" sense.)
We also learned that Pandora doesn't necessarily impose a storyline on her shoots at the time that she is shooting them:
I don't know what story these images might tell. Perhaps we are lovers, or witches; perhaps I'm an artist decorating her for some sort of show, or perhaps she's my submissive and I've set her the challenge of stillness and obedience. Perhaps we are students in some strange alternate universe where punishment lines are written not on paper, but on skin.
I'm still pretty sure there will be cats. And probably a fireplace.
Similar Sex Blogging: