April 9th, 2017 -- by Bacchus
There's a great deal of excitement about virtual reality porn on display at VRPornMania, which is entirely appropriate for a site whose evident purpose for existing is to get you excited about virtual reality in general and about VR porn in particular. You don't have a VR headset? They will tell you why you should get one, and where to look for it. Don't have a clue where to start with VR at all? They will point you in the right direction. If nothing else, the site's your one-stop shop for enthusiastic VR porn evangelism.
One thing that quickly made me laugh was a YouTube reaction video of people watching VR porn for the very first time. Not, you know, porn fans watching it, but nerdy people who don't admit to liking porn in the first place. Hilarity ensues. Here, apparently, is the body language of a woman who doesn't normally admit to watching porn, the first time you show her a vagina up close and personal in a virtual reality porno: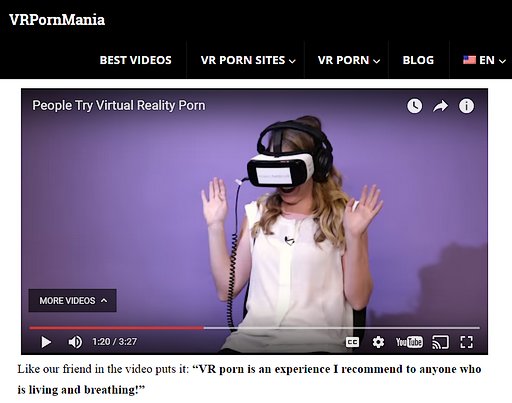 She's all like, "Whoa, Nelly, back that thing up and get it out of my face!"
More seriously, a lot of the porn professionals among my readership will appreciate the site's straight talk about the need to pay for your VR porn, given that the expense of making the stuff is such that genuinely "free" VR porn of any quality is close to non-existent:
There is almost no high-quality free VR porn. Free VR porn is extremely rare. [And] paying for porn is way easier than you imagined…
The recent wave of "free VR porn!" advertising hype is unpacked for consumers, with a frank discussion of the fact that people who go looking for "free" stuff are going to find nothing but very short trailers and a few non-commercial graphics of dubious quality. The takeaway message for consumers is very clear: paying for your VR porn is still the only way to get access to any of the best stuff that's being made in this exciting new corner of the porn industry.
The site also includes a detailed blog that covers everything from VR games (including several Patreon-supported virtual reality interactive sex environments that sound promising) to sex toys (some of which have internet connectivity and/or teledildonics and interactivity features now being branded as "VR" to catch the current marketing wave) to highly-specialized VR camera and photography gear. I particularly enjoyed the announcement (not quite a review, although one is promised) of the OhRoma "smell mask" featuring thirty different programmable scent cartridges including the smells of "private parts" and "panties." How do we know the long-promised VR future is finally arriving? We can smell it coming!