October 4th, 2017 -- by Bacchus

Fourteen years ago I posted a bit of a rant explaining that my typical refusal to link to adult content that's hidden behind adult disclaimers, login buttons, age verification schemes, and all other "useless excrescence that interferes with the natural linkage from one web resource to another" is political. It's one little thing I can do to strike small blows in the eternal culture war against the forces of repression who wanted then and want now to keep "adult material in locked ghettos at the fringes of the web."
Today's post is in the nature of a policy notice, reminding everyone that Tumblr (under the thumb of Yahoo as sold down the river to Verizon) switched sides in that culture war when they took the explicit porn blogs dark, making them invisible to the open web when they barred them to search robots and made them invisible to everyone but logged-in Tumblr users with non-default settings.
It's long been my habit to fix broken links of all kinds on ErosBlog by replacing them with functional links to archived pages in the Internet Archive's Wayback Machine. Adult Tumblr links have always been fragile; Tumblr has a history of deleting adult blogs for non-transparent reasons. So I've fixed a lot of old broken Tumblr links over the years with Wayback Machine replacements. These days, though, a lot of explicit Tumblr porn blogs (but not quite all of them) are locked behind the Electron Curtain without being, technically, deleted. Links to those blogs now land the surfer at a message like this: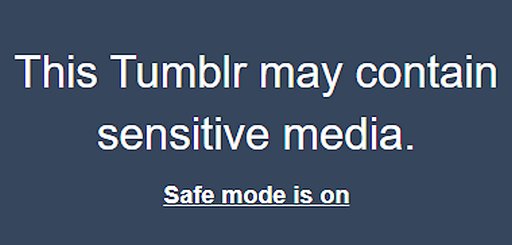 It might in theory be possible for a savvy surfer to comprehend from that message that they need to create a Tumblr account or log into an existing account, change the default settings, and revisit the link in order to see the originally desired content, but as far as I'm concerned, such links are better treated as broken. The purpose of this post is to explain my intention to treat all such links the same as broken (404 not found) links that I encounter in my archives. Which is to say that, time permitting, when I encounter these links I will repair them by replacing them with an Archive.org Wayback Machine link that does not require login. I encourage other webmasters with control over such links to do likewise.
Example: Until today, this post from 2012 contained the following link to the Happy BDSM tumblr: ( link ) Because clicking that link now brings a non-logged-in or non-Tumblr user to the Tumblr buzzkill page, I have treated it as a dead link and replaced it with a working link to an archived page: ( link ) I hope that helps clarify!
Similar Sex Blogging: