January 19th, 2018 -- by Bacchus

I know it seems awfully early to be thinking about Valentines day gift ordering with the cold chill of late-mid January still holding much of the nation in its iron grip, but hearts-and-chocolates day with (hopefully) a bit of make-an-extra-effort even-better-than-usual sex will be upon us before you know it. And while I cheerfully acknowledge that ErosBlog was long ago surpassed by a crop of knowledgeable and ridiculously expert sex toy review bloggers as a place for getting genuinely detailed information about modern sex toys, I still have a close relationship with the Stockroom, both as a customer and as an affiliate, that goes back more than twenty years now and leaves me feeling remiss in my sex-blogger duties if I don't alert you to the major highlights of their big holiday blowout sales. The 2018 Valentine's Day Sale started yesterday, runs through February 14, and features discounts up to 50%:

In addition to the discounts, this year's sale features a fairly substantial-sounding "free gift bag" promotion of sexy goods worth $49.95 that appear in your shopping cart automatically once you've added $200 worth of merchandise. There's also detailed Valentine's Day Gift Guide to help with your shopping, and as always, orders over $99 ship for free.
Since ErosBlog is not fundamentally a BDSM-focused publication, and because kink emphatically is at the heart of the Stockroom's strengths, I'll limit my sale picks on the kinky side of things to a couple of the most heavily-discounted, high-ticket items that offer you the biggest potential for major savings, before moving on to slightly-more-vanilla sex toys. The first kinky bargain I want to highlight is the Joanna Angel Bondage Essentials starter kit, offered at 50% of the regular price for the duration of the sale: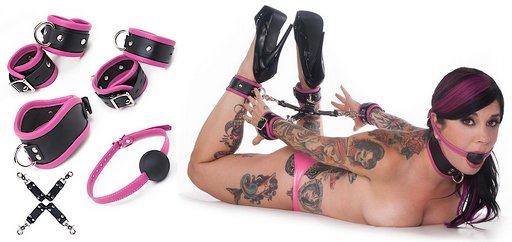 The second kinky bargain is a 30% reduction on the rarely-discounted price of the expensive and luxurious Stockroom-original Bolero straitjacket in festive holiday red leather. These are the special design that lets you tuck away your submissive's arms without inhibiting access to her breasts: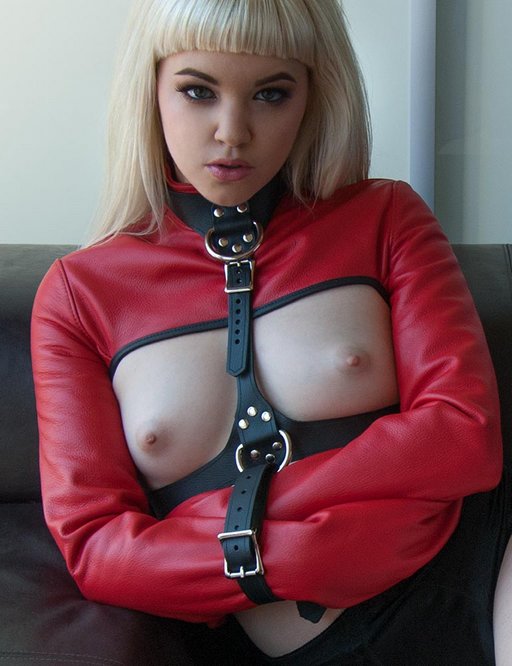 (I say "her" because the Stockroom has somewhat-explicitly gendered this design; they offer a different Bolero for men, but it doesn't come in red and it's not on sale.)
Moving on from toys that are explicitly kinky, the Stockroom's sale still has plenty to offer! My absolute favorite seasonal goody has got to be the Naughty Candy Hearts butt plugs:

Another massive half-off discount is on the KinkLab Mystic Vibe Wireless Vibrating Egg, which seems to have a lot of potential for couples fun, depending on who controls the remote: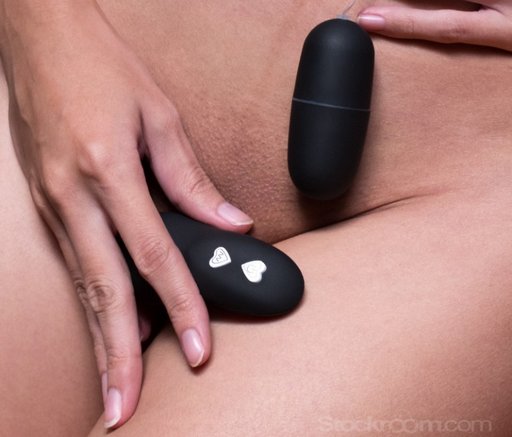 I truly wish I'd gotten my hands on a review model of this toy before it came on sale, though, because quite a few years ago these sort of wireless eggs tended to have really weak radios and weren't reliably responsive. KinkLab is the Stockroom's in-house brand and they usually don't sell anything that isn't good, so I expect this one works as advertised. Anyway the advertising claim is impressive; they claim the remote can control the egg "from up to 10 meters away" "in an entirely different room". That sounds good enough, anyway, to cover the really important use case, which is making your partner squirm on the other side of a table during dinner in a fancy restaurant!
Finally, because half the fun of V-Day sex is trying something new (at least if you're dead sure it's something both parties want to try, it's never a good time to pull out all the gear for a surprise fantasy) I'm going to link you the 20%-off Tantus Bend Over Harness Kit for Beginners, that comes with "everything a beginner sensuous player would need to strap it on" including a low-riding harness with adjustable nylons straps plus large and small silicone dildos: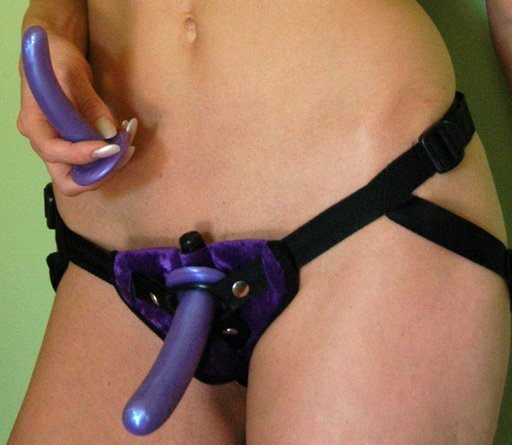 Happy Valentine's Day!
Similar Sex Blogging: