February 18th, 2018 -- by Bacchus

If you have ever watched a little too much Japanese porn, or thumbed an Asian porn magazine and wistfully eyed the advertisements for the WILD sex toys in the back pages unlike anything available in this country, I've come across a website that might make you oddly happy (as long as you don't mind some pretty hefty trans-Pacific shipping costs). I'm talking about Kanojo Toys and their amazing selection of masturbators, Tenga holes, sex dolls (silicone, plush, inflatable, or miniature), scent/smell fetish items and used panties, cosplay gear, DVDs, and items so bizarre the Kanojo people just dump them in a category they call "Fun Stuff". (See, e.g., the "Ryoujoku Shame Graffiti Body Paint: Japanese porn-style insult writing crayons.")
But none of this, my friends, is why I have called you all together here today. No, we're here to marvel at a four-point-four pound slab of buttocks and feet called the Petan Hips DX Kneeling Onahole, which is helpfully subtitled "Japanese buttocks, feet fetish masturbator." Marvel, I said, and I meant it: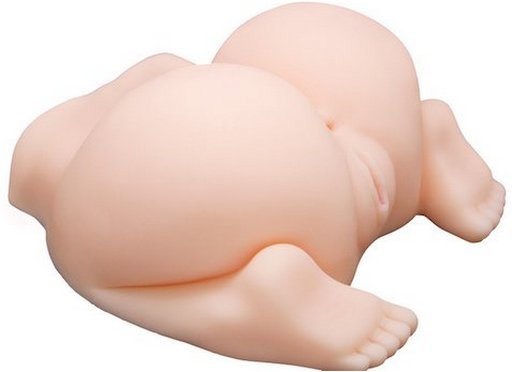 There is a lot of very helpful sales copy to go with the photograph, although there may have been just a leetle teensey weensey bit of keyword stuffing going on:
"Ass realistic modeling" is what Tama Toys have put on the box and they couldn't be more right! The Petan Hips DX Kneeling Onahole. You have two holes to choose from in this flat-bed masturbator, plus you can even slide yourself in between her awesome buttocks. Her pussy is lined with generous bumps the whole way, changing in intensity as the hole winds. Her butt hole, meanwhile, starts with some wider ribs, before squeezing you into a vice-like tunnel deep inside.

She is sitting on her knees, her cute little feet sticking out from underneath her ass (great if you also have a foot fetish). If you like a curvy ass, grip hard onto this butt, a deluxe rear waiting for your hands to hold it and your member to enter.
Perhaps the helpful and attractive banner will demonstrate the features of the product more clearly than translated marketing prose ever could: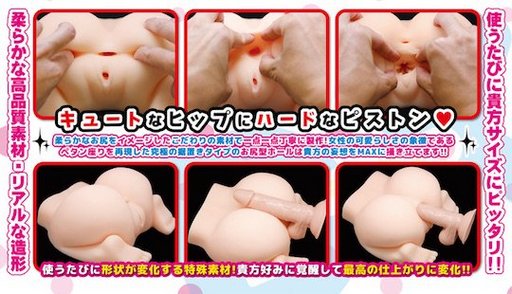 I don't want to sound like I'm mocking the person who would enjoy this toy, because I'm truly not. The extreme objectification inherent in these "chunks of bodies with holes in them" sex toys lends itself to extreme reactions; they are always going to strike some people as horrifying, sad, or macabre, while triggering positive fetish reactions (amputee fetish, doll fetish, rubber fetish, and more) in other people, even while simply working as sex toys for a third category. My primary reaction is the triggering of my "imp of the perverse" — I want to order these by the dozen, and distribute them (preferably with industrial adhesives) to posh slick surfaces at expensive addresses where they will shock the toffs and be difficult to be remove. But I recognize this as a highly individualized reaction, no more or less valid than any other. (I am no doubt fortunate, given pervasive surveillance these days, that I cannot afford to indulge my impish notions.)
Similar Sex Blogging: