June 12th, 2018 -- by Bacchus
There's a Pornstar Platinum shoot available through Kink Unlimited called Ava Divine Disciplines Rob Piper's Cock and from one of the promo photos, you might think it was light-dominatrix stuff: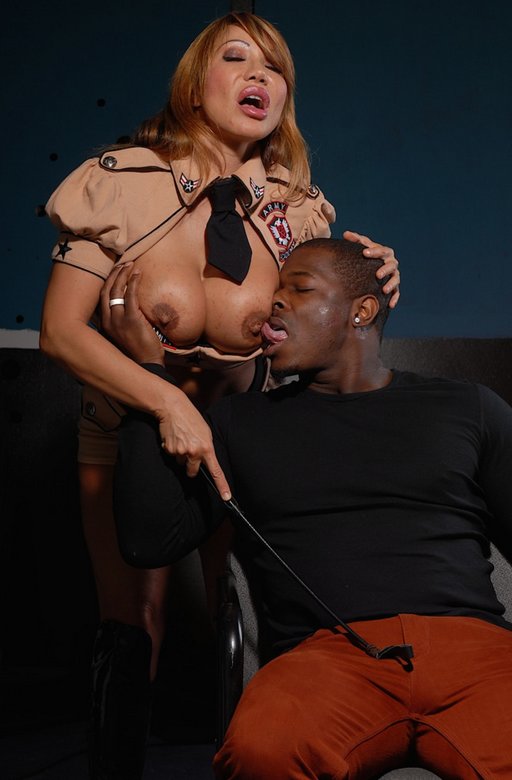 But petting his penis through his pants with that riding crop is as close to discipline as the shoot ever gets, my friends. The sales copy makes this considerably clearer:
Hi boys, Ava Devine here and I am going to be disciplining Rob Piper's humongous black cock. You know where I'm gonna start? With that big black cock up my ass! I can't wait to take that cock in all my holes.
Yeah… no. I'm sure that's fun and all; indeed, as the video makes clear, it's rather emphatically a hoot for all parties involved. But what it might have to do with "discipline" is distinctly unclear. Call me a joy-killing linguistic pedant if you must, but this is porn-labeling gone seriously haywire. There's pussy fucking and ass fucking and deep throating and all kinds of good clean dirty fun, but of discipline, there is not one iota to be seen. Friends, she lets that man do whatever he wants, and he wants to do every inch as much as you would! (Plus, let us be honest, a few inches even more, unless you have been extremely well-treated by fortune and nature. They don't hire these performers at random.) No. Of spectacular sex there is plenty; of discipline, there is none.
Similar Sex Blogging: