January 5th, 2005 -- by Bacchus
So I was looking at the Best Of Blog nominations (because somebody told me ErosBlog was on there, albeit in a mystifying category with a horrifying and ridiculous scarlet-letter disclaimer after our name.) I was delighted to discover that the enormously entertaining Mistress Matisse is a finalist in the best sex blog category.
Now, obviously I like her blog a lot, or it likely wouldn't be at the very top of my sex blog list. (Lower down, position doesn't mean anything; but blogs near the top are all ones much liked by Aphrodite, The Nymph, or me.) Matisse combines an entertaining writing style I can't even manage to dream of having with a commendable willingness to write about her own personal and professional exploits, which are (from the perspective of a country boy like me) themselves rather eye-opening. The combination ensures that her blog is the first link I click every morning when I open my blog. I therefore commend her to your voting finger. You know what to do.
What? Not convinced yet? Smart and funny don't do it for ya? So you're one of those horndogs who wouldn't cast a vote for Pope without shouting "show us yer tits" first? We got ya covered: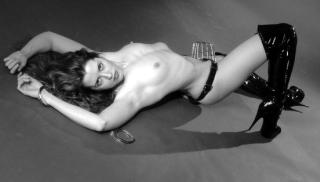 Unreduced photo here.
If Matisse doesn't do it for you, there are other worthy candidates on the sex blog list, including at least one set of old blogfriends that would be very close in the contest for my fickle affections if they only posted more regularly. (Hi, Mike-and-Michelle!) But I promise you, there's nobody else on that sex blog list who would make a better Queen of The Sex Bloggers….