September 10th, 2006 -- by Bacchus
I've been reluctant to post this image, because I don't know enough about its history and context. Probably propaganda judging by the style, possibly racist in effect if not in artistic intent, perhaps depicting a rape (given the different uniforms, and the common theme of rape in military propaganda as a metaphor for brutal victory/defeat), though there are no overt indications thereof and both men have their weapons handy.
So why post? Because it's two men in uniform fucking, that's why. Guaranteed hotness for a certain fairly large fraction of the ErosBlog readership. Without further ado: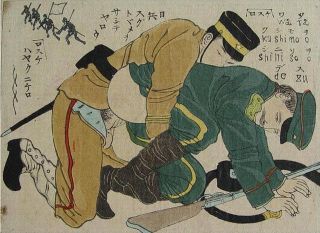 If anybody with the appropriate linguistic skills cares to comment on the meaning of the visible text, that would be appreciated. Larger version is here.