October 12th, 2006 -- by Bacchus
Random photo from the very large image collection, featuring bondage and foot licking: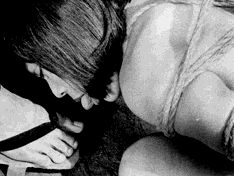 I actually know some folks who attend "foot washing" events, but they claim it's a religious thing (emulating Jesus) and not a fetish thing. I suppose skepticism on my part would seem churlish. In any case, I don't think they do it the way the girl in the photo does it.