March 19th, 2014 -- by Bacchus
The Stockroom has always been a great place to buy relatively inexpensive glass sex toys. Glass is a great material for sex toys because it has fun thermal properties and is easy to clean. The Rotator nubbed glass dildo has a fun shape for couples play, too: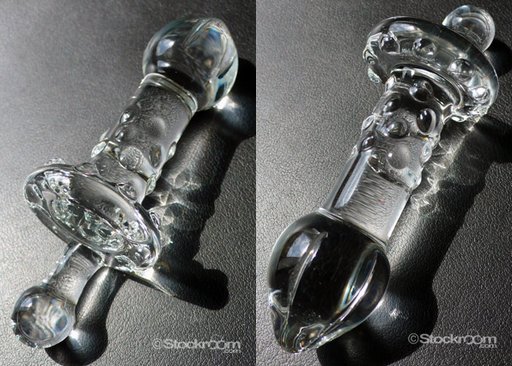 The nubbed, clear glass Rotator is sure to turn your partner's head. (Pun!) Short and sweet, the nubbed shaft flares suddenly but manageably into a strawberry shaped head with vertical grooves. Around the inner rim more nubs are placed, ready to rest on you or your partner's labia or outstretched anus. Moving still lower, the offset handle gives the Rotator it's name as a swirl of the wrist rotates the dildo / plug inside your partner with multiple sensations courtesy of the varying textures. Perfect for temperature play, the Rotator is made of borosilicate, a glass that resists thermal shock.
Similar Sex Blogging: