June 25th, 2014 -- by Bacchus
Remember last week when I blogged about rumors that Google was disabling certain shortlinks built using the Goo.gl link shortener, if the link targets were porn sites? Well, thanks to a pair of tweets from Rain DeGrey attempting to share a photo from HardTied.com, right now you can see that that little chunk of the #pornocalypse in live action. Here are the tweets:
The one & only @DarlingBDSM is worked over by @MWRigger for @HardTied as only they can!! #BDSM http://t.co/BAbBL2POyf pic.twitter.com/GozhucZZWI

— Rain DeGrey (@raindegrey) June 25, 2014

Evidently Google could not deal with the awesomeness that is @DarlingBDSM and disabled the link to her shoot :( Fine. http://t.co/YRAoR2Ypfg

— Rain DeGrey (@raindegrey) June 25, 2014
And sure enough, if you click the goo.gl link in that first tweet, right now Google is serving you this instead of the photo Rain linked to: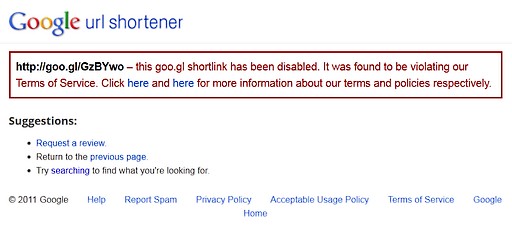 The only sentence in the two policy links Google offers that seems even remotely relevant is this one: "Do not use this service for spamming or linking to content that may harm other users."
The modern state of Google's anti-spam software: there's a rule in there that assumes that porn and spam are the same thing. Don't be evil? My ass.
Similar Sex Blogging: