March 16th, 2015 -- by Bacchus
Twitter has been "the only major adult-friendly social media" for quite some time now, and thus I've been saying for awhile that it was about due for some hot #Pornocalypse action. And now it's here, in the form of some porn killwords silently added to the default "Top Tweets" presentation of Twitter search results: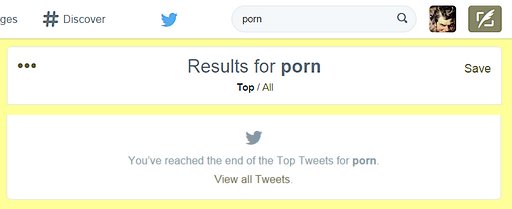 Violet Blue included the news in her weekly roundup yesterday, and she credits a tweet from Crash Pad Series for spotting it.
Violet and friends have been working out which porn words are blocked on Twitter. So far #porn, #bondage, #femdom, #revengeporn, and #phonesex have come up in their discussion. Violet says "one of the things I hate about sex censorship is that it renders previously useful tools into unreliable and inaccurate tools" as is illustrated by this tweet:
@violetblue @twitter this is annoying. I used searches for "revenge porn" to monitor trends and what people I follow were saying about it.

— Adam Steinbaugh (@adamsteinbaugh) March 15, 2015
I decided to do a little exploring. #Spanking still returns "top" results (I guess the thinking is that we don't want to stop parents from talking about how precisely they should go about beating their precious darlings) as does #enemas (don't want to harsh that trendy coffee-enema health craze!). #Fisting, though, gets the double-deathkiss; Twitter first offers you #fishing results, then says it has no top fisting results if you demand to "Search instead for fisting":
#Buttfucking and #rimming? Blocked. #Pussy, #cunt, and #vagina are all blocked. But #dick and #penis are fine, because men I guess.
Let's be double clear what we mean by "blocked" here. So far, there are no reports of any killwords being applied to the "all tweets" search. You can still find this stuff with an extra click. The block is being applied to the "Top Tweets" functionality, which of course is the default search result presentation. What is a "Top Tweet"? Twitter says:
When you search on Twitter.com, you can toggle between "Top", "All", and "People you follow" results. Clicking "Top" shows popular Tweets that many other Twitter users have engaged with and thought were useful.

We've built an algorithm that finds the Tweets that have caught the attention of other users. Top Tweets will refresh automatically and are surfaced for popularly-retweeted subjects based on this algorithm. We do not hand-select Top Tweets.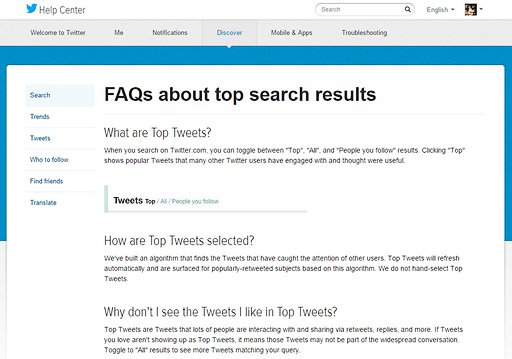 I'll close out this post with a not-unexpected irony: there are no "top tweets" displayed for #Pornocalypse.

Similar Sex Blogging: