July 30th, 2016 -- by Bacchus
My admiration for the extent to which people will go in fulfilling their fetishes is always reinforced by the category of sex toy products that's been designed so that people can have tails, albeit tails that are held in place by means of well-inserted butt plugs. Butt plug tails usually fall into the category of animal roleplay gear, for which purpose they are functional, practical, and allow for some kink and fetish costuming (think puppy play, pony play, and select furry/fursuit shenanigans) that's otherwise difficult to pull off well.
Something that I have not seen before and believe may be both new and unique: a butt-plug tail that receives extra help keeping it in place from an Oxballs-style cock sling. This requires penis and balls for maximum effectivness — sorry, people who don't have penises! — and it's fucking awesome in a Michael Manning kind of way: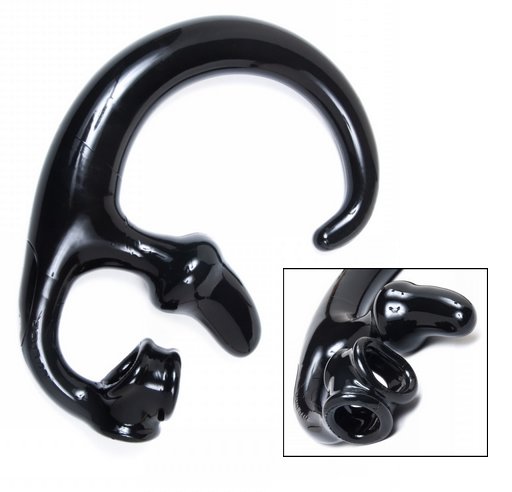 Yes, that's the Alien Tail Cocksling Buttplug (also available in red) from The Stockroom, made by Oxballs. Here's the official sales copy:
A super-stretchy Alien for your ass! Oxballs brings you this smooth design which features a built-in version of their cocksling, with an attached ergonomic buttplug. You will love the unique feel of the thick rubbery tail that wiggles with your every move! The cocksling/buttplug design creates a "locking" effect that keeps you hard and keeps the plug tightly inside your hole. Feels great for tops or bottoms as it wriggles around your insides.
Most of you are probably thinking some version of "Hey, all-righty then!" But a few of you are feeling that familiar twinge of new-sex-toy lust. You know who you are; you know what to do. Enjoy!
Similar Sex Blogging: