September 6th, 2016 -- by Bacchus
For some years now, the widespread adoption of social media sites by internet users (some of whom now think that "the internet" is just a synonym for Facebook) has made it abundantly clear that there would be a market opportunity for adult social media sites where people can share their favorite porn and their own amateur or semi-pro sex videos while socializing and connecting in various ways, without fear of being forced to use their real names or having their content deleted for running afoul of some vaguely-described anti-porn policy. There have been some adult social media successes in specific niches (most famously, FetLife, which has more than 5,000,000 member accounts) but there's still no obvious market-leading adult social media site for the general audience.
Today's post is about Pornspot, which in billing itself as "the adult social network with free porn videos and free live cams" is making a play for the adult social networking market. The Pornspot people asked me to have a look and share my impressions, which I've done from the perspective of a casual visitor; I did not actually make an account (they're said to be free) or test out the familiar-looking social media tools for following, friending, messaging, and tipping other members.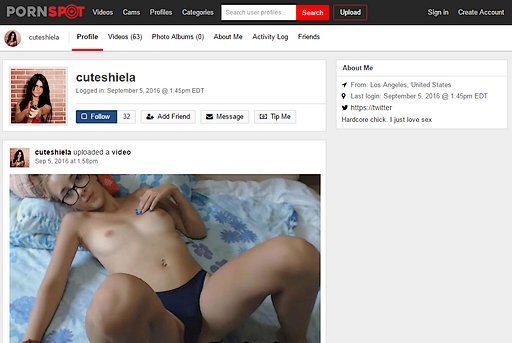 Although the ability to tip other members is probably in place primarily for the free, tip-supported cams offering that's incorporated into the site, it strikes me as a useful tool for achieving critical mass and encouraging member participation, both of which are often difficult for social media sites that don't have critical mass yet. The cams offering at Pornspot is currently fairly small (with between 8 and 15 performers logged in at various times that I was checking out the site) but I see that as a nice feature rather than a problem. For one thing, it tends to indicate that these performers are unique to the site. My reasoning here is that if the cams offering on the site were a white-label plugin for one of the major cams brands, it would have the typical "hundreds of performers" scope. Given the highly individual nature of the public shows at free tip-supported cam sites, it's hard to generalize about the quality of the performers at Pornspot, but the first room I visited featured some very sexy almost-nude dancing, so my first impression is positive.
The busiest and most robust section of the the site is inarguably the "videos" section, which operates on a tube-style user-uploads model and advertises more than 1000 new videos uploaded every day:
Although I am on record as having issues with porn tubes in general due to the difficulties the big famous ones have caused for producers, performers, and the porn business ecosystem in general, it's a defensible model for adult social media sites in part because the user upload tools can be used by site members to share amateur home videos and sex tapes with other members. Pornspot at least makes the right noises, forbidding in its TOS the uploading of videos that users don't have the right to upload. Better yet, much of the commercial porn on the site — and there's a lot! — appears to have been uploaded by producers and/or their affiliates, which is all to the good as well as being a growing trend in the commercial porn industry generally. Also, many of the cam performers appear to have uploaded some of their shows to the video section of the site, giving it a bit of diversity.
For me the most interesting feature of the videos on Pornspot is the intensely detailed diversity of their tagging and categorization. Too many porn sites have a tightly-curated set of just a couple of dozen categories that are often so broad as to be useless. (My own pet peeve is the "fetish" category — what the hell does that vague label tell anyone?) Pornspot videos are divided into more than 150 formal categories — much better! — but in addition, they are also tagged with more than 7,000 distinct tags that users can use to search for videos. That many tags are clearly not curated, and indeed they appear to have been selected freely by video uploaders. As you might expect, the resulting list is a lengthy and sometimes-chaotic "hot mess", but if you're looking for something very specific, you can nonetheless zoom in on it quite nicely using the tag index. For instance, if you need "anal carrots" there might only be one video on the site that's just what you're looking for, but that tag will take you straight to the carrot-equipped "Anal Lesbians Dressed Up Like Wascally Wabbits" that you didn't even know you were looking for: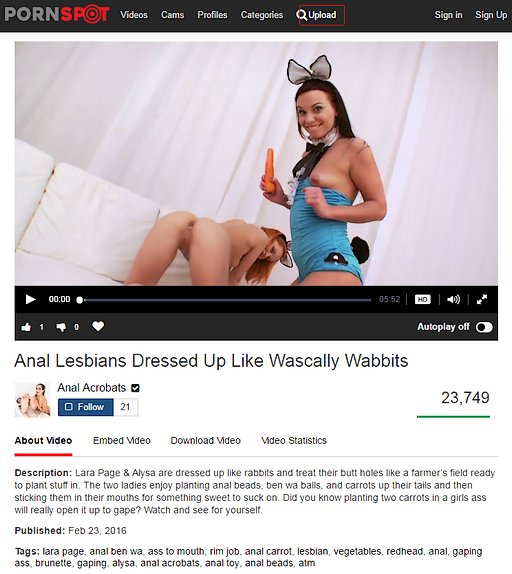 At the end of the day I found Pornspot to be a very pleasant and human-scale place to find porn videos and free cams offerings. My incomplete impression of the social media features is that they seem quite promising as well. But just as you'd find at many of the other competitors in the adult social media space, the site's social media features and benefits will require a critical-mass liftoff of the user population before they achieve maximum utility and impressiveness. Will it happen for Pornspot? If I knew how to predict that or how to make it happen for certain, I'd be running my own competitor in the adult social media space. All I can say for sure is that if you're looking for a place to do adult social media stuff, this one seems worth checking out.

Similar Sex Blogging: