January 9th, 2018 -- by Bacchus
I went with The Nymph and my good friend Dr. Faustus to the Tulsa Art Deco Museum not long ago, and afterwards we stopped into Decopolis Books across the street. (I commend both of these destinations to anyone who finds themselves on Boston Avenue in Tulsa, Oklahoma.) While in Decopolis Books, I was confronted by the following epic-scale figure I am calling the Tulsa Sky Pilot: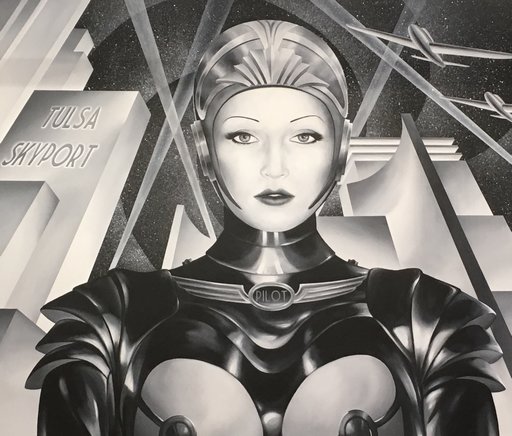 I would go, I think, pretty much anywhere she wished to steer our dirigible.
The art is by trompe l'oeil muralist William The Artist and may be purchased, per the accompanying placard, right off the wall if you have $6,800 and a large enough truck. Or, for a sum unspecified, the placard indicates William The Artist will come around to your place and paint it directly on your own wall.
Similar Sex Blogging: