January 5th, 2006 -- by Bacchus
If you've ever seen the print version of Hustler's Taboo magazine (edited by the modestly legendary bondage king Earnest Greene, spouse of hugely legendary porn star Nina Hartley), you'll know that it's a cut above the usual newstand fetish fare. Sure, it's got your basic bleached blondes in crotchless red latex catsuits piddling into clear glass salad bowls, and sure, it combines handcuffs, riding crops, and blowjobs in ways that are hardly novel (although perhaps a bit prettier and a bit edgier than is common these days). But it's also got some of the slickest fetish photography around, from famous photographers like Suze Randall, and some of its kinkiness borders on genuine high-concept: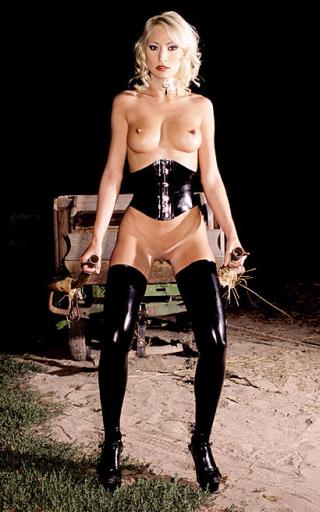 Any fool can order a pony girl outfit and deliver photographs of some cute filly high-stepping across the carpets of an LA hotel suite, but where else will you see a porno-blonde in latex boots and corset hauling a manure wagon around some dirty farm in the dark? It's gotta be art, I tell you!
Similar Sex Blogging: