September 28th, 2007 -- by Bacchus
It has to be said: People are funny about their kinks. They want the kink, but sometimes they don't want to own up to the sex part. They don't like to admit that they do what they do because it makes them horny and leads to great sex.
In the realm of bondage, one way people sometimes display this curious hesitance is to treat bondage as if it were a sort of performance art. They wax lyrical about the aesthetics of the thing, do bondage displays in public venues with strict rules against any sort of sex play, and create highly stylized photography featuring beautiful bondage models like Roma, here, tied up with almost all of her clothes on: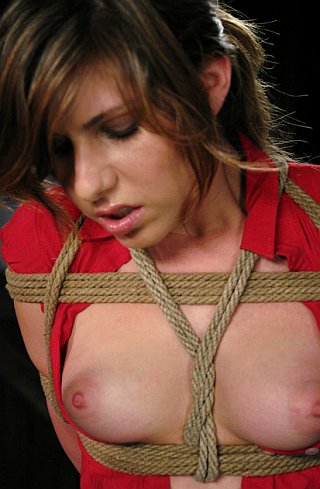 Which, in my view, is mostly bunk. It leads to some breath-taking bondage photography, sure. But when a man ties up a woman's breasts with that much care, it's for one reason only. The reason? So she can't bat away his hands when he does this: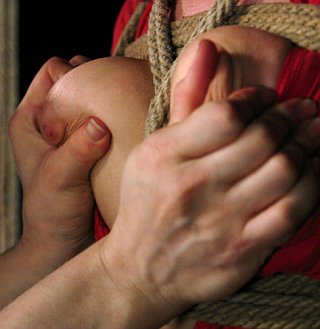 Now, that's what I call getting a good squeeze!
(Of course, those particular hands actually belong to Claire Adams, as you can see in the full gallery from Whipped Ass. No matter, it's still a good squeeze.)