January 23rd, 2014 -- by Bacchus
As y'all know, I'm a big fan of the seasonal sales from The Stockroom, because I've been a happy customer for more than 15 years and because they usually have really steep discounts during their big sales. My "problem" is that even though they sell sex toys of all kinds, their first love and greatest strength is BDSM gear. And that's awesome, but even in 2014 it's still a niche, and I always worry that highlighting too many kinky bargains will be off-putting to the substantial portion of my audience who doesn't give two hoots for bondage and kink.
So my Valentines Day resolution this year is to post about the Valentine's Day Sale at The Stockroom without mentioning a single one of their BDSM offerings. Is this limiting? Yes! But for you, I do these hard things. I believe I can manage by focusing on painless, unconstricting items that couples can use to have fun together. Let's get started, shall we?
First of all, what is the greatest romantic holiday of the year without roses? But real roses are expensive and (if you source them the traditional flower-shop way) something of an environmental nightmare. And then, a few days later, they're trash (or at best, compost). Feather roses are more fun (tickle party time!) and last much longer:
Another great couples gift is a sexy craft project that you can make together and use together. The Clone-A-Willy kit for making a dildo in his precise likeness has gotten a lot of press for this reason; you can have fun making it together and then play with it together or separately. Is she the type to steal your old sports shirts to sleep in when you're not there? Perhaps she'll enjoy a more personal memento!
For many of us, though, this is a holiday about chocolate. Don't worry, we've got that covered! Indeed, why not get the make-it-out-of-chocolate version of the Clone-A-Willy kit?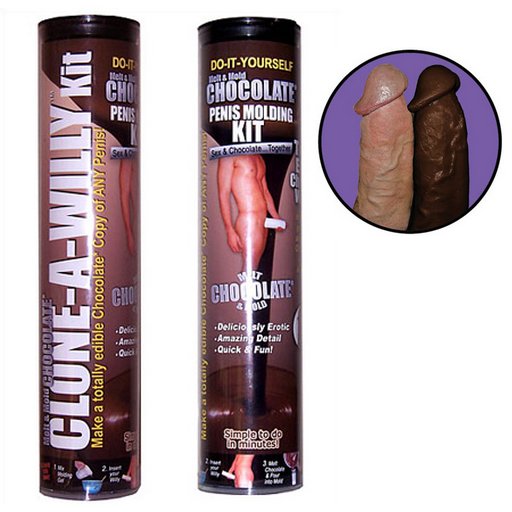 But this is 2014, and what used to be sauce exclusively for the gander is now also available as sauce for the goose. Get those replica willies out of your mind for a moment. Did you know there was a Clone-A-Pussy Molding kit now available? (Sadly, apparently not in chocolate.)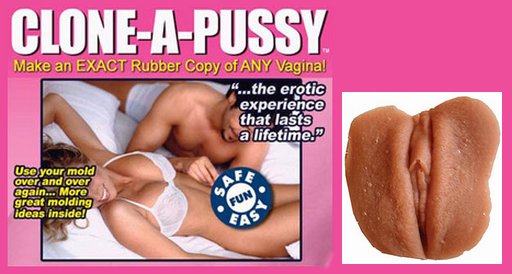 This could be fun to use, but you'll need to take care that you don't give off any sort of creepy trophy-hunter vibe when it's time to persuade the proprietor of your favorite pussy to participate in your proposed craft project. I can't say I'm sanguine that the Stockroom sales copy totally avoids that pitfall:
This fun and easy do-it-yourself kit includes everything you'll need to make an incredibly detailed, life-size rubber copy of the outer portion of any vagina from your own home. Use the mold over and over again and create your own treasured collection of life-like vaginas. Please note: Your new pussy replica is a shallow likeness, without a hole, and not designed for …ahem…. insertion. Think of it as a naughty homage, as opposed to a working masturbation device.
Moving rapidly onward, as perhaps we ought, there's a very real chance that a person might much prefer to explore his or her favorite pussy in the most exquisite detail, rather than making a non-functional partial copy out of rubber. If you suspect your lover of feeling that way about your own pussy, perhaps you might surprise them with a handy inspection tool in festive holiday pink?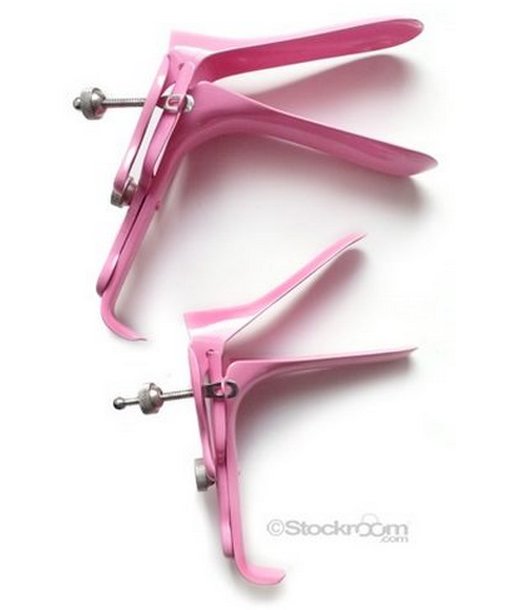 For the more timorous among you, it's worth pointing out that sexual how-to books and DVDs are among the safest, most non-threatening sexy gifts you can give. Your partner can process the gift on his or her own time, a sex book or video can be the topic of later open-ended discussion, and in the end, it can be a great way to bring new sexual material into your relationship. There are several awesome titles in this year's sale that you may want to consider:
Similar Sex Blogging: