October 10th, 2017 -- by Bacchus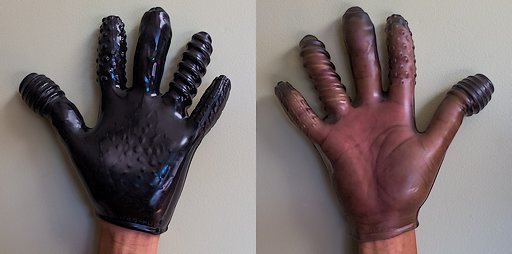 This new product in the Stockroom's catalog looks like a lot of fun for everybody involved! It's called the Finger-Fuck Glove, it comes in two colors (more detailed photo here), and it looks like a great way to enhance an activity that you were probably already going to be doing.
Introducing a whole new way to explore with your hands: the Finger-Fuck Glove by OXBALLS is a soft, super-rubbery glove designed to transform your hand into the ultimate hole-explorer. Each digit is tipped with a different shape and texture for a new sensation with every finger you employ: one, two, or the whole hand. Tickle them deep from the inside and watch them squirm, groan, and utterly lose control. Or slather Finger-Fuck in lube; you've never had a handjob like this!
Similar Sex Blogging: