Speaking honestly, I've sort of let my #pornocalypse coverage lapse recently. Not much has changed in years; corporate social media keeps tightening the noose, formerly adult-friendly places become less so. On the one hand we still have the old-fashioned open web, with the freedom to publish on adult topics but without much access to traffic or to the financial system. The freedom to sleep under a bridge, right?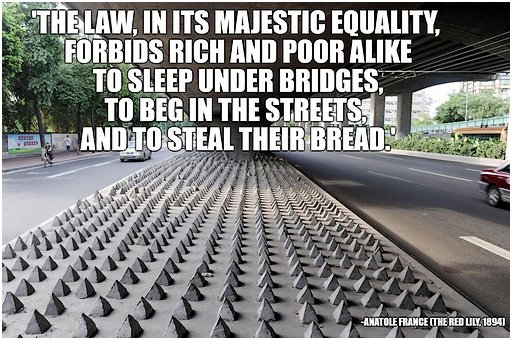 On the other hand, we have the infamous five websites, which is where all the people are, and from which they mostly will not migrate nor follow any links.

Adult material and links are mostly not welcome there, on the five websites, except to the extent that that this material is disguised from the machine censors by cutesy emojis and twee circumlocutions. If you're a "spicy accountant" or a "mattress actress", a lover of "quink" or a "corn" aficionado, a fan of big eggplants or women whose peach icons sometimes spray cartoon raindrops, corporate social media is very much for you.

So yeah, I've grown tired of the #pornocalypse beat, and I've let lots and lots of pornocalyptic stories glide by without any of my commentary. But yesterday, Pandora / Blake (perhaps best known to ErosBlog readers as the director and publisher of Dreams Of Spanking), published an open Patreon post discussing their frustration at the recent deletion of their kink education channel on YouTube.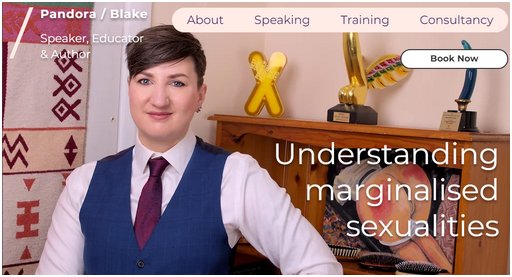 Blake's treatment exemplifies the recent trend in #pornocalypse behavior by the major social media platforms that I first wrote about back in May:
Increasingly the hot new trend in #pornocalypse is social media platforms banning accounts and people not for what they posted/linked, but merely because of who they are. Biggest example was PornHub getting banned from Instagram despite having a whole team of lawyers and creatives making sure their Insta account broke no rules. It's frustrating, and it's why I never have the courage to try anything effortful on adult-hostile social media channels.
It used to be common for porn-hostile platforms to tolerate porn-adjacent people, sex educations, and even sex workers, as long as the platform's specific TOS against adult material were complied with. For many people, this was workable; they'd ride the ragged edge of the TOS for months or a few years, getting specific posts banned and enduring shadow bans, until eventually (and with great pain) they'd lose an account after too many strikes and have to start all over again. You could make a living that way, if you didn't tire. But, over time, I started noticing that specific TOS compliance stopped mattering. All over porn-hostile social media, people started losing accounts not for any specific violations, but simply because of who they were. If their public identity was too identified with adult topics, they would be banned without warning or appeal, never knowing which posts gave institutional offense. Thus, Blake's experience:
I've been publishing videos on YouTube since 2014, throughout my campaigns against UK porn censorship and age verification. For the last two or three years I've been regularly posting original kink education videos, many of which I've accompanied with transcripts here on Patreon. The channel mostly consisted of these fully clothed talky adult education videos on topics ranging across consent, BDSM, porn, feminism, queerness, and organisational and self-care strategies. It also included video podcast style interviews with other educators, interviews with adult performers, political campaign videos, and a few carefully cut trailers for spanking films that showed no sex or nudity, but either clothed character interactions and plot snippets (in the case of multi-performer videos) or excerpts from clothed POV fetish talk videos. I suspect it was these latter videos that fell afoul of the content policy, but I have no way of knowing.

…

None of the videos on my channel included sex or nudity. I avoided posting links to any adult sites in the video descriptions, linking to Patreon and mxblake.com instead. … I'm furious that a channel 90% of which consisted of educational material about consensual pleasure and LGBTQIA issues has been summarily deleted without any option to review or edit the content. Was it just those few talky trailers which YouTube objected to so much, or is the entire project of BDSM education in itself too risqué for YouTube?
My speculation is that the answer is "neither". Rather, I suspect that one or more videos generated enough algorithmic red flags to fall under human eyes, and the human in question applied the new-ish unofficial #pornocalypse policy that's been spreading so rapidly throughout corporate social media: "If the entity who posted this is any kind of pornographer or sex worker, nuke their whole stinkyporny channel and get them off the platform. Fuck the terms of service! Those words only mean what we pay them to mean, no more and no less."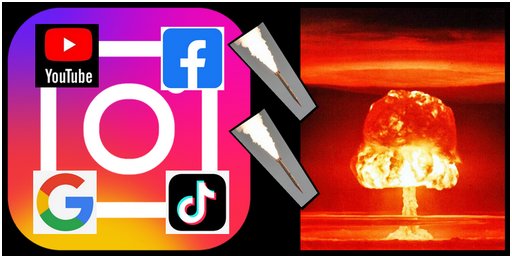 For me, the event that dropped the final scale from my eyes was when PornHub got banned from Instagram. If it ever made sense to go dancing with the social media devil while accepting your periodic lumps from the censorship algorithms, it no longer does, in my opinion. PornHub has a whole professional social media team, complete with content creators, editors, and as much legal support as they need. You can guarantee that they posted nothing that contravened Instagram's TOS, not by the least jot or tittle. Did it matter? No. Throw them into the pit! You and I? We're not going to fare any better.
I don't have any solutions to offer, and anyway Blake explicitly isn't asking for any. So I'll leave you with Blake's powerful summary of the state of the #Pornocalypse in 2023:
I mourn the loss of the open internet that was promised us in the early 2000s. My cyberpunk dreams of open peer-to-peer communication and free expression have been repeatedly thwarted, and I'm so angry about it. Fuck Google, their YouTube takeover, and their long-standing policy of devaluing adult sites in search results. Fuck Elon Musk for turning Twitter into his own personal ego trip, and a hotbed of Nazism and transphobia. Fuck Meta for taking over Instagram and enforcing their "family friendly" policies in a way that forces grown adult sex educators to talk about "s3x", "quink" and "spicy corn". Fuck Tiktok too, while I'm at it. I hate that in order to reach an audience we're forced into these privately-owned silos which loathe everything to do with consensual adult sexuality, and which have the power to remove our access to social connectivity at the whim of a badly-trained algorithm.
All of this, every word.
Similar Sex Blogging: