January 23rd, 2007 -- by Bacchus
OK, I used that title just so I could pick on it. But first, the vintage porn: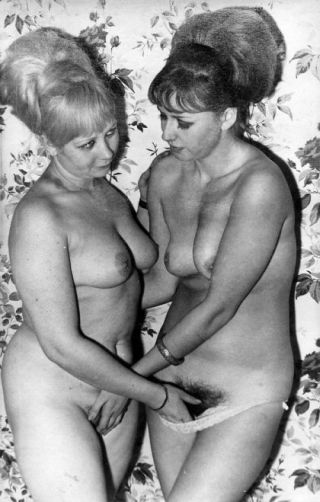 Now, what's wrong with my title? In general, there's a number of reasons why I don't normally throw the word "lesbian" around loosely when characterizing what Rick Santorum might call "woman on woman" porn.
First of all, there's the moron factor. Thirty years of greasy-idiot pornographers shouting "Hot Lesbo Fucking!" every time they get two naked ladies in the same photographic frame has sort of polluted the swimming pool.
At a deeper level, even when you've got two women actually doing sexual things to each other in a photograph, it's never clear to me that you've got enough information to attach that "lesbian" label. Yeah, lesbian women have sex with each other (by all reports, anyway, I haven't witnessed it with my own eyes) but even with my dim and primitive grasp of gender politics, I'm reasonably confident that there might be greater depth to lesbian identification. I don't think you can reliably attach labels like that based on photographic evidence alone.
And finally, there's the fundamental deceit present in all posed photographic art. Porn models tend to do what they're paid to do, and it doesn't say much about who they are. Calling a woman a lesbian because she poses sexually with another woman is like calling an author a Catholic because he writes a story with a priest in it.
Which is really my point about this picture. The suggestive touching is one thing, but I'm not seeing any enthusiasm in the faces of the models. Which would make this bad lesbian porn, if lesbian porn it were.
Over-analyze much? Why, yes thank you, I don't mind if I do.