January 24th, 2007 -- by Bacchus
A while back I noticed a Bondage Blog post called Hanging Like Ripe Fruit. The post (illustrated by some bondage porn from Hogtied.com) featured a suspension tie reminiscent of a scene from The Claiming of Sleeping Beauty, a famous BDSM novel by Ann Rice. Unfortunately Bondage Blog only posted one picture, so in a moment of boredom, I went back to Anne Rice to help flesh it out:
"Double her, for punishment," said Lord Gregory. "I think a real punishment is in order."

Princess Lizetta gave several high-pitched groans. They seemed both anger and protest. She seemed not to have bargained for this, and as she was carried ahead of Beauty and Lord Gregory into the Hall of Punishments, the Pages quickly affixed leather cuffs to her wrists and ankles, each cuff with a heavy metal hook imbedded in it.

Now she was raised, struggling, to a great low beam that spanned the room, her wrists hung from a hook above her head and then her legs brought straight up in front of her so that her ankles were fixed to the same hook. The was, in fact, bent double. Her head was then forced between her calves, so that Beauty could see her face clearly. And a leather strap was bound around here, securely pressing her upturned legs against her torso.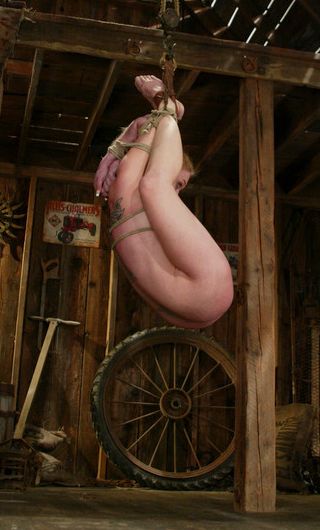 But the most cruel and frightening aspect of it for Beauty was the exposure of the Princess's secret parts, for she was hung so that anyone could see her full sex with its pink lips and its dark hair even to the tiny brown orifice between her buttocks. And all this just below her scarlet face. Beauty could imagine no worse exposure and she looked down timidly, glancing up again and again to the girl whose suspended body moved slightly as with a current in the air, the leather links at her wrists and ankles creaking.

…

The man in velvet had begun to stroke Princess LIzetta's sex with a small instrument that was, as so much here, covered in smooth black leather. This was a three-pronged rod that somewhat resembled a hand, and as soon as he teased the helpless Princess, she began to struggle in her bonds.

Beauty understood at once what was happening. The Princess's pink sex, terrifying to Beauty as it hung so unprotected, appeared to swell, to ripen. Beauty could see tiny droplets of moisture appear on it.

…

"Lord Gregory," the Lady said, "you must think of something special." Then to Beauty's horror, the lady reached out delicately and fastidiously and pinched Princess LIzetta's pubic lips hard so that they exuded moisture. Then she pinched the right lip and the left, and the girl winced with pain and misery.

Lord Gregory had meantime snapped his fingers for the Lord with the iron clawlike hand, and whispered something Beauty could not hear. "It will strengthen her punishment."

And now the Lord appeared with a little pot and a brush and as the Lady stepped back, he took the brush and bathed Princess LIzetta's naked organ in a heavy syrup. A few droplets fell to the floor, and the princess again made known her misery. She sobbed softly behind her gag, but the Lady only smiled rather innocently and shook her head. "It will attract any flies we have about," Lord Gregory said, "and if we have none it shall produce its inevitable itching as it dries. It is quite uncomfortable."

The Lady did not seem satisfied. Her pretty and innocent face was smooth however and she sighed. "I suppose it will do for now, but I wish she were bound with her legs apart to a stake in the garden. Then let the flies and the little insects of the air find her honeyed mouth. She deserves it."
Although there are no dramatically better views in the short trailer and sample views visible for free without whipping out your credit card, a membership will get you rather a lot more!
Similar Sex Blogging: