January 30th, 2013 -- by Bacchus
A while back I had a conversation somewhere on social media (I'm getting old enough for "can't remember shit" disease to have set in, so I have no idea where or precisely with whom) with a woman who said she didn't understand why dildo harnesses weren't more popular with men. Being the (comedic) straight man that I am, I asked "Ah, durr, what for?" Her answer was, essentially, so they could do this: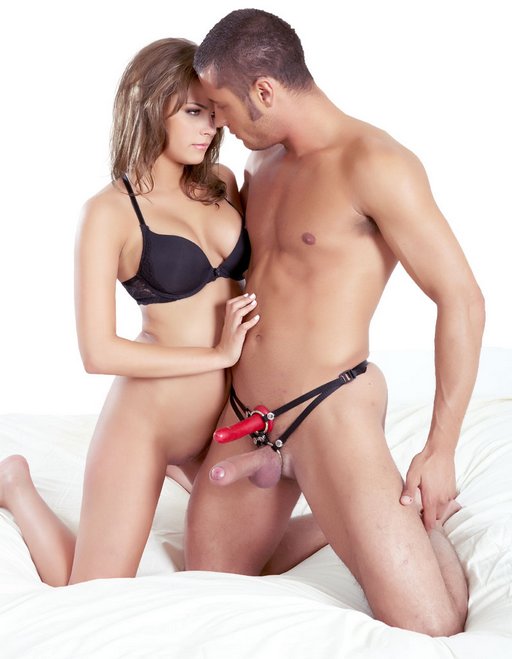 That's the Double Penetration Harness and Dildo Set from the Stockroom, there. It caught my eye because I was paging through the goodies on offer for the Stockroom's annual Valentines Day sale at the time and reflecting on how "sex toys as romantic gifts" is a tricky thing to get right. It's no fun if the buyer won't enjoy it, but you don't want to be that guy who springs a new and possibly-unwelcome fetish play request on his partner in the guise of buying the necessary gear "for her" with a heavy side of "so now we have to play with it". The trick, of course, is to buy gear for a fantasy she's already expressed an interest in.
So, this may not be your situation. But imagine that she's said on several occasions some variation of: "Gosh, I'd love to be double-penetrated like those girls in the pornos, but I don't want another man in my bed so I guess I'll just have to dream about it…" I'd say the Double Penetration Harness and Dildo Set is your opportunity to go all "I am a MAN, I provide SOLUTIONS by using ENGINEERING!" Once again, MacGyver saves the day.
Hey. Maybe that's not your situation. Maybe you'll do better if you buy her the Anal Rosebud Suction Cylinder (I am totally not making this up). I dunno. The point is, romantic sex toy gifts work better if you've been listening to your partner and get a gift that enables one of their sexual fetishes or fantasies, rather than just your own. Yeah, that's so basic, but people (especially guys) get it wrong all the time.
Similar Sex Blogging: