July 13th, 2013 -- by Bacchus
OK, it takes a lot for me to look at a new sex toy and go "bu… but… WTF is it for?" These anal tunnel plugs have done it to me today: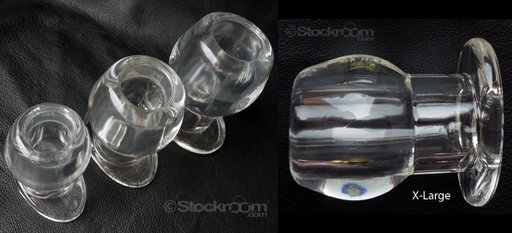 Can somebody please point me to an internet resource describing the sexual use of these things? I can't imagine there are too many people enforcing fecal incontinence on the long-term residents of their dungeons, right? Are people being penetrated through the central holes in these things? Is it for visual access? Perhaps all these things are true. I just can't say. The Stockroom's promotional copy wasn't very enlightening:
Want to open yourself and your lover to more intense sensation? These safe, flexible anal tunnel plugs take the conventional butt plug to an entirely new level of physical and visual pleasure. Whether you're an advanced player or just beginning to explore, our three size options ensure satisfaction, and these tunnel plugs warm to the body and adjust to create a one-of-a-kind fit just for you!
We eagerly await further reports from the sexually-adventurous exploratory front.
Similar Sex Blogging: