February 3rd, 2015 -- by Bacchus
As promised, today is my day for blogging about the best bargains in the 2015 Valentine's Day Sale at the Stockroom. What's good this year? My eye falls first on that perennial favorite, the Neon Wand, with discounted accessories too.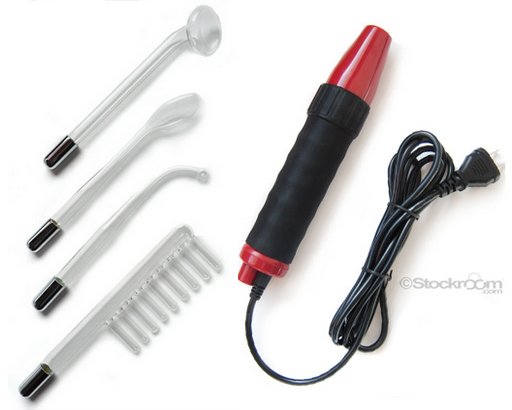 I really like the Neon Wand as a sex toy gift because it's said to be much less intense than its much larger and more expensive Violet Wand spiritual predecessor. Certainly the Neon Wand can be used in BDSM if you're so inclined, but it's first and foremost a sensation toy, with just enough snappy electrics to be edgy and exciting as well as pleasurable (should you choose to use it that way).
If you're not into the kinky stuff so much, but your partner is fifty shades of curious because of that new movie coming out, this might also be an excellent time to buy the Bondage 101 kit: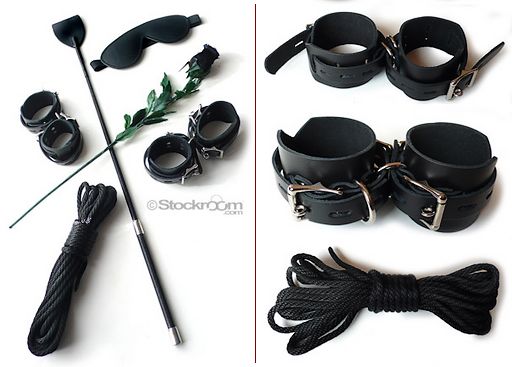 It's marked way down for the sale and it's packed with basic BDSM utility and trademark Stockroom quality in a way that sex-store novelty-shop junk never can hope to be.
But as I never tire of reminding people, the Stockroom is ever-so-much more than "just" a kinky-sex BDSM and fetish toy store. Would Violet Blue's The Adventurous Couple's Guide To Sex Toys help make your hearts-and-candy day more memorable? I don't see how not. Or maybe a book on how to have painless anal sex? (I'm informed that anal isn't even considered kinky these days, though it surely was when I was a whippersnapper. But then, in that benighted era that didn't have lube on every nightstand, it was considered inevitably-painful, too.) There's even luscious and sexy jewelry at the Stockroom.
Happy shopping!
Similar Sex Blogging: